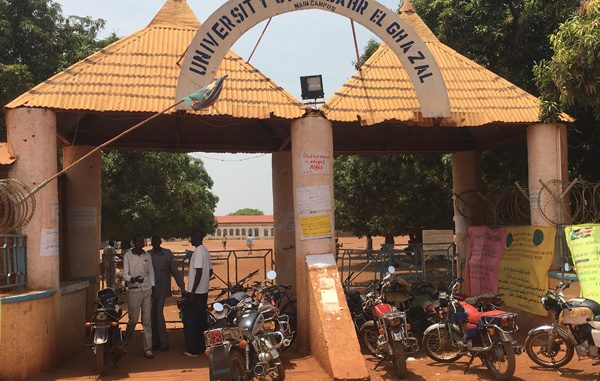 Students of Bahr el Ghazal University have threatened to strike on Monday 8th May if the University administration fails to address the issue of the non teaching staffs at the university.
Wau – 6th May 2017 [Gurtong] – In response to the ongoing worker's strike, the student's committee is now concerned about their studies, which has been affected by the strike. The Students Committee calls upon both the National Government and the State authorities to urgently address the matter, in order to resume lectures at the university.
In a Statement released by the Students Committee last Friday, the Students demand for the impeachment of the vice chancellor and his two deputies from the University, for failure to provide water and proper sanitation at the university main campus.
The workers, led by the Trade union at the university, last Wednesday resumed a peaceful open strike demanding for transport allowances. This the third time the workers at the university have striked in the last three months.
On 30th March, the Vice chancellor professor Samson Samuel Wassara denied any responsibilities regarding transport allowance at the university. "The order of remittance of casual labour, transport allowance was a directive from the Undersecretary in the Ministry of Higher Education to the vice chancellor." Wassara added.
According to the Vice chancellor, the letter directed to the university stated that no transport allowances were allocated to any university in the country despite University of Bahr el Ghazal having it in their payroll.
Professor Wassara said the employees have the right to claim for their rights; however it's the responsibility of the ministry of higher education to address the matter to the workers.
"The representatives of the workers held a meeting with the Undersecretary last Friday; they were clearly informed that transport allowance is actually part of the salary structure that was passed by parliament. This is actually implemented in all the five universities." said wassara.