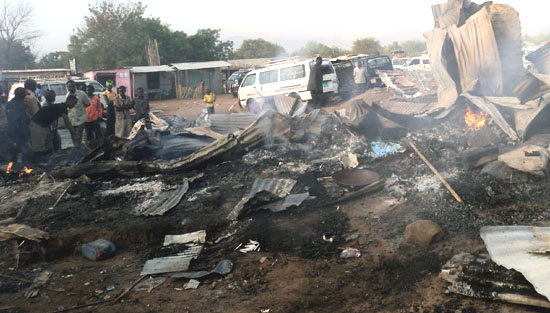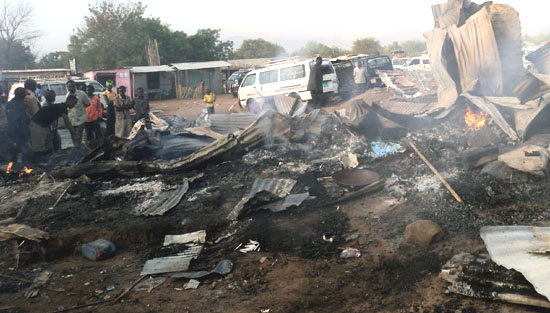 Last Wednesday at around 8:30pm, another fire outbreak razed Omoliha market, a place directly opposite to Omoliha Bus Park in Torit, the capital of Eastern Equatoria State.
In the latest fate, unlike the first one which occurred on 1st February at about 1.30pm also at Omoliha market opposite, this time round several South Sudanese and Northern Sudanese traders have lost dependable goods to ashes as hysterical fire continue to defiantly consume them without intervention from the office of fire brigade/civil defense, eyewitnesses at the scene have lamented.
One of the fire victims, a Sudanese national identified as Mr. Mohamed Ismail, 62, who runs a business with his Uncle, Mr. Abdurahaman Mohamed Ahmed, had his several goods gutted, among them are scores of fruitful smoking containers known as shishas, boxes of cigarettes, 50 bags of sugar of 50 Kgs, 45 bags of flour of 50 Kgs, 25 bags of Egyptian beans known as fulmosir of 110 Kgs, 15 bags of dates.

According to Mohamed Ismail with his fellow affected colleagues, the fire started at a tea cafe belonging to a Mr. Jalika but others dint know the cause; those eyewitnesses who were close insisted that the fire resulted from Jalika's cooking stove.

Gurtong spoke to Ms. Jackline Odofo, a single mother of 4, whose family squarely depends on her destroyed commodities for trade, among them were 4 chairs, one refrigerator crammed with hundreds of bottles of soda, several jerrycans of soft drinks and juices, bulky scooped sugar for making tea and some local soft drinks got destroyed.

Another victim Mr. Mulais Secondo whose scores of goods got burnt to ashes told Gurtong that the fire fighters failed to intervene immediately although an official from their office arrived an hour later when the fire had already caused huge damages.
He claimed that their driver; (of fire fighter tanker vehicle) was absent and the official also claimed that there was fuel shortage.
The Fire Civil Defence Assistant Director, Lieutenant colonel Nelson Iya Khamis repentantly apologized to the victims for failing to intervene on time saying their office is faced with numerous challenges among them inadequate operational funds. The little amount of about SSP 7,000 they receive for fuel does not help complete the whole operations and also unreliable drivers to perform duties on night shifts.

Mr. Iya lamented that he was yet to establish the amount of properties damaged.
He told Gurtong that his office facilitates compensation to the victims through the State Ministry of Humanitarian Affairs & Disaster Management.
The affected parties need to fill a form at the Office of Fire Civil Defence after which the form is stamped and sent to the Ministry which then launches an official request to UN Agencies seeking for support.