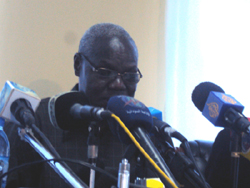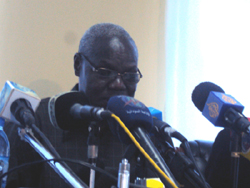 The Southern Sudan Referendum Bureau has confirmed that South Sudan has reached the 60 percent threshold to validate the referendum.
The SSRB head Justice Chan Reec Madut told a press conference in Juba today that reports from across the semi-autonomous region indicate massive voter turnout.
"At the end of the fourth day of polling, with 86 percent of referendum centers reporting 2,360,922 people are confirmed to have voted in South Sudan. This exceeds the 60 percent threshold figure of 2,359,553 and therefore the bureau is confident the threshold has been met", Justice Madut said.
"The first five days of polling have been conducted remarkably smoothly thanks to the professionalism of the staff and the thorough training they received", he said.
He commended the peaceful conduct of South Sudanese during the polling period.
He also said counting of the votes will begin in every referendum center after voting has been completed in all the registration centres on January 15.
He added that the results for each referendum center will be posted for the public to view.
"I would like to explain that the results declared at the referendum center, county and state level only apply to that geographical area and will need to be verified and checked through the data entry process", clarified the chairman.
Justice Madut at the same time ruled out extension of the exercise, save for Australia where massive flooding has affected the voting process.
He called for patience among South Sudanese as voting nears completion and the subsequent announcement of the results.
The polling results of Southern Sudan according to the Bureau will be announced on January 30, 2011 and the entire results will be announced on February 2, 2011.