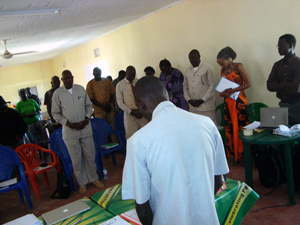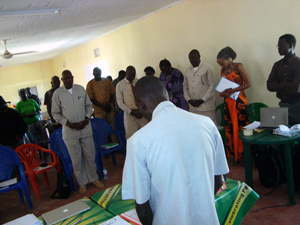 A key reconciliation and development meeting has commenced in the Eastern Equatoria State capital Torit.
The Lango community prays before the commencement of their peace meeting.
The 3-day meeting organised by the Lango community residing in Juba with financial support from well wishers aims at reconciling the political leaders from Ikotos County who fell out during last year's general elections.
The organising committee chairman William Okot de Toby told Gurtong that the meeting will also chart the way forward for the county's socio-economic and political development, especially after the final declaration of the referendum results.
Okot, who is also the chairman of the Lango community in Juba added that the consultative meeting will also plan for next month's Lango General Conference that will target the youth, women, elders and chiefs among others.
The conference's secretary Odongi Loyo said over 60 participants are attending the meeting and include the Ikotos County Commissioner, members of the Southern Sudan Legislative Assembly and the State Legislative Assembly, Advisors to the Governor of Eastern Equatoria State from the Ikotos County, community leaders, contestants of the last 2010 April elections, key traditional leaders, veteran politicians and religious leaders who from the county.
He said the conference will involve presentation on a range of issues on several sources of conflicts in the community, with an aim of recommending key solutions ahead of the general Lango community conference.
The Lango community is the dominant ethnic community in Ikotos County.