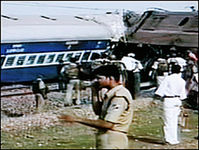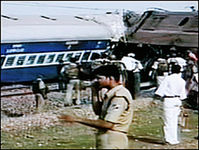 Al Jazeera has just reported that at least 24 people were killed and 150 injured when a dozen coaches of a passenger train derailed in Uttar Pradesh state. The accident occurred when the driver of the train apparently applied emergency brakes. At the moment, authorities are saying they fear the death toll will go up. The Kalka Mail train from Howrah was on its way to New Delhi.
The BBC wrote: Television footage showed carriages at skewed angles, with one on the roof of another and a third thrown clear of the train. One passenger told CNN-IBN television: "We were sitting in our seats when suddenly everything turned upside down. When the train stopped we broke the glass windows to jump out on the track." State police official Brij Lal told the Associated Press news agency: "We're trying to cut into the coaches and rescue those still trapped."
The Hindu in a subsequent article has pegged the numbers at 35 dead and over 200 injured. They are saying 15 bogies derailed. The derailment took place at 12.20 p.m. when the packed train from Howrah reached near Malwan station, about 120 km from Lucknow. It is reported the train was going 108 km/h which is its top speed.
State-run monopoly Indian Railways carries around 30 million people every day, but has a poor safety record because of ageing infrastructure.
Last year, the BBC reported that Indian Railways, a state-run behemoth with over 1.4 million employees, aims to eliminate accidents by 2020. The world's fourth largest railway network – over 63,000km (40,000 miles) long, just behind the US, Russia and China – continues to have a patchy safety record: there have been more than 1,000 accidents since 2004 alone. More than 200 people died in railway accidents in 2008-09. The number of crashes may have declined – 177 in 2008-09, down from 320 in 2003-04, and an alarming 2,000 in 1960-61- but safety remains a pressing issue.
Uploaded by newsxlive on Jul 10, 2011
Howrah-Delhi Kalka Mail derails
11 coaches of Kalka Mail have derailed. 30 people are feared dead and more than 120 people are reported to be injured.
Uploaded by newsxlive on Jul 10, 2011
Howrah Kalka Mail: The biggest railway mishap of 2011
Click HERE to read more from William Belle
Article viewed at: Oye! Times at www.oyetimes.com