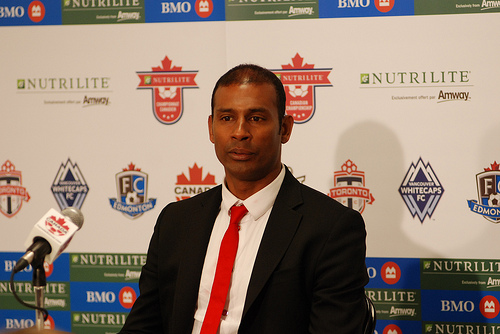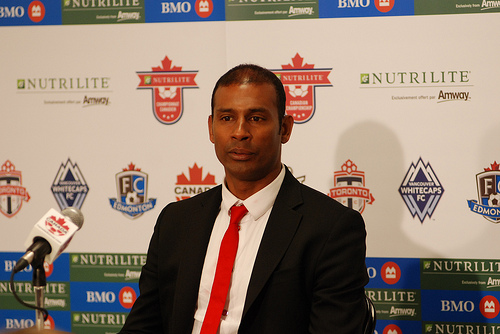 Aron Winter- Head Coach & Technical Director, Toronto FC
On the game …
"We didn't play well, which was a result of a lack of balance. We are just going through the motions, not passing the ball for 5-10 minutes. In the end, we tried to build to at least get a point. When the score is 1-0, you can try and force it still, but I just think we didn't give enough."
On preparation …
"We prepare ourselves very well. It's important, whether you are attacking from the left or the right side, you need enough people in the box. Today, maybe it was because it was very hot, but we didn't do the things that I ask of them."
On going 0-2 on the road trip …
"I think those two opponents were opponents where you could get four points or more. It's always hard, and we invited some good players here to lead us and bring us to a higher level. But still you have to do it with the whole team, and they have to make a difference."
STEFAN FREI- Goalkeeper, Toronto FC
On the game …
"It was a pretty eventless first half for both sides. I thought we were doing all right, I would have liked to see more chances. I think we built up decently at times, but it never resulted in a shot, and we never tested their goalkeeper."
On Houston's first goal …
"On the first goal, I think our shape was decent, but we lost a quick counter and we got stretched out. Cruz is quite speedy and went one-on-one against me, and luck just wasn't on my side. I was able to get it onto the post, but it just wasn't enough."
On the team's effort:
"It's a team sport. We attack together, we defend together. We lose together, we win together. It's unfair to say a defense gives up 6-7 goals, because if you play defense for the entire game, eventually you are going to crack. I think we need to play more offensively, play more in the opponent's half. What can you take positive from these two games? You can say they are over. We need to think about our next two games. We have a week off, we have some reinforcements coming in, and we need to take care of our bodies."
DOMINIC KINNEAR- Head Coach, Houston Dynamo
On the game …
"I was happy we won. It took us a while to get a goal. We had some decent chances in the first half. I felt if we could score the first goal, we would win the game because they weren't pushing much forward, and defensively we were very solid tonight. I thought if we got a goal it could be enough, and thankfully it was."
On halftime adjustments …
"At halftime we were frustrated, because we did have some good looks in front of goal. It's always good to win at home, because it allows the fans to go home happy. With these three points, you can get some momentum and pass some people if you put some wins together."
On a second consecutive shutout …
"It's always good when you get no goals against. We made a few mistakes, but we covered up for it. Tally gave a lot of credit to his back four for making his job easier than it had to be."
GEOFF CAMERON- Midfielder, Houston Dynamo
On the game …
"It was a good hard-fought game. We came out and wanted to win, and we did that. We got another home game, got confidence, got another three points, and we're going to try to do the same exact thing that we did this weekend and take it into next week to get three points."
On his goal …
"It happened pretty quick. The little deflection off of Will [Bruin] bounced in front, and I just saw the ball bouncing and hit the ball as hard as I could. I kept the ball low, and it went in the net."
Scoring Summary:
HOU — Danny Cruz 1 (Brian Ching 1) 50
HOU — Geoff Cameron 3 (unassisted) 81
Lineups:
Toronto FC — Stefan Frei, Dan Gargan, Richard Eckersley, Ty Harden, Danleigh Borman (Gianluca Zavarise 59), Javier Martina, Tony Tchani, Mikael Yourassowsky, Jacob Peterson (Nick Soolsma 69), Alan Gordon, Joao Plata.
Substitutes Not Used: Doneil Henry, Demitrius Omphroy, Matt Stinson, Nathan Sturgis, Milos Kocic.
Houston Dynamo — Tally Hall, Kofi Sarkodie, Andre Hainault, Jermaine Taylor, Corey Ashe, Danny Cruz, Je-Vaughn Watson (Lovel Palmer 83), Geoff Cameron, Brad Davis (Colin Clark 65), Will Bruin, Brian Ching.
Substitutes Not Used: Bobby Boswell, Hunter Freeman, Jason Garey, Cam Weaver, Tyler Deric.
Misconduct Summary:
TOR — Richard Eckersley (caution; Reckless Tackle) 32
TOR — Alan Gordon (caution; Reckless Foul) 64
TOR — Mikael Yourassowsky (caution; Reckless Tackle) 68
HOU — Danny Cruz (caution; Reckless Tackle) 85
Referee: Hilario Grajeda
Referee's Assistants: Brian Poeschel; Steven Taylor
4th Official: Ismail Elfath
Attendance: 19,085