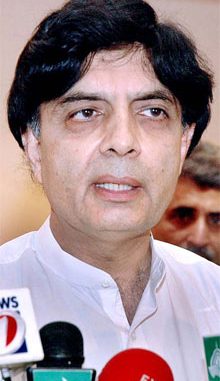 According to Leader of the Opposition in the National Assembly Chaudhry Nisar Ali Khan the government had not taken parliament into confidence on giving India the Most Favoured Nation (MFN) status.
"We have serious reservations on granting the MFN status to India and the government should bring the issue in parliament for debate but it seems that they are running everything in mafia style,"
Chaudhary Nisar Ali would file a petition in the Supreme Court against the appointment of NAB chairman Admiral (retd) Fasih Bukhari. "In my capacity as the leader of the opposition, I have directed my lawyer Akram Sheikh to prepare the petition, which would probably be filed by Saturday (tomorrow)."
Ch Nisar also sought the government's clarification of the news report in the Financial Times regarding President Asif Ali Zardari's memo to the US administration, which he sent through US Admiral Mike Mullen. "It is a serious issue but the government has so far neither issued any clarification nor confirmed the report and if they deny it, then they should sue the newspaper."
The report, he said, made serious allegations that President Asif Ali Zardari feared a military coup against him and was ready to change the security team of the country as per the wishes of the Americans if Washington provided him protection. "These are serious allegations and the government should clarify its position," he said.
Article Viewed on Oye! Times @ www.oyetimes.com