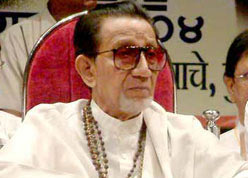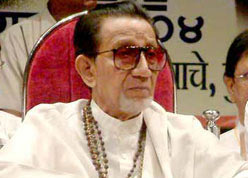 Shiv Sena Chief Bal Thackeray on Thursday launched an attack on the leaders of "outsiders", challenging them to leave Mumbai along with their supporters, instead of boasting to bring the city to a standstill.
Taking Samajwadi Party leader Abu Azmi and Mumbai Congress president Krupashankar Singh head on, Thackeray asked them what they have done for the city and the working class.
"Forget about Mumbai and Maharashtra, what have they done for the working class here? These leaders have become rich, but the working class is exactly where it was. Mumbai is the capital of Maharashtra and the first right on this capital will be of the Marathi manoos only," he claimed, in his editorial in Saamana on Tuesday.
Azmi, in a programme held on Chhat puja, had warned the Sena that if anyone dares to get physical with North Indians, he will be answered in the same manner and that Mumbai belonged to outsiders. In another programme, Singh had said that if outsiders stop work, Mumbai will come to a standstill.
Thackeray then asked the North Indian leaders to return to their native states. "There are a few businesses which are under the influence of these outsiders. If tomorrow they decide not to work, there are many people who will come forward to take their place. There are Marathi youngsters who are ready to do all the hard labor," he stated.
Thackeray added that Maharashtra did not extend an invitation to North Indians to come to Mumbai. "Maharashtra gave them a space to sit, and now they have captured all the space," he remarked. Sena's stand indicates their line of campaigning in the upcoming civic elections.
Article Viewed on Oye! Times @ www.oyetimes.com