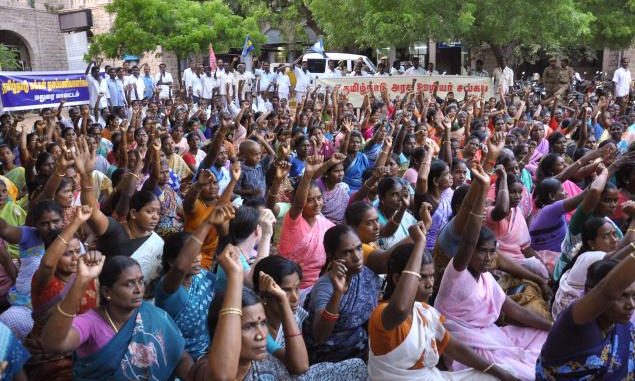 The dismissal of over 12,000 village-level welfare workers drew a howl of protests from political parties and employees unions on Wednesday, with the Dravida Munnetra Kazhagam (DMK) announcing demonstrations across the State on November 15 to condemn the government's move.
They also demanded that the government withdraw its order disbanding all posts of 'Makkal Nala Paniyalargal' (Staff for People's Welfare) and reinstate these workers immediately.
As some of the 'Makkal Nala Paniyalargal' came out on the streets to stage protests, the DMK said that its youth wing would hold demonstrations in all district headquarters on November 15. The party's treasurer and youth wing secretary, M.K. Stalin, would lead the protest in the State capital.
DMK president M. Karunanidhi saw the development as one more in a long list of decisions by the present government overturning those of the DMK regime.
Writing for his party organ, 'Murasoli', he said the government appeared to have forgotten that these workers would be reduced to penury if thrown out of their jobs overnight. Recalling that the DMK regime had appointed unemployed youth to these posts in 1990, he said it had become routine for these workers to be employed for five years during DMK rule and out of work for the next five years of AIADMK rule.
He listed some workers who had committed suicide after being dismissed in 2001. "Aren't they citizens of Tamil Nadu, and have they not voted for Jayalalithaa to become Chief Minister?" he asked.
The CPI (M) State committee condemned the dismissal of these welfare workers at one stroke, and demanded their reinstatement.
PMK founder S Ramadoss said these workers were performing crucial duties in supervising welfare schemes at the village level.
The Tamil Nadu Government Employees' Association, the State committees of CITU, AITUC and the All-India Farm Workers' Association also condemned the government's action.
Article Viewed on Oye! Times @ www.oyetimes.com