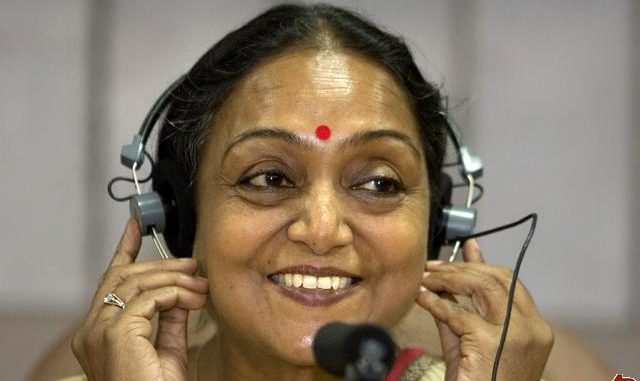 Close on the heels of its disclosure that Lok Sabha Speaker Meira Kumar owed Rs 2 crore as rent for a New Delhi bungalow, the government said that she had been in breach of a court order for 19 months till her squatting had been regularized by a cabinet committee.
In an RTI reply to activist Subhash ChandraAgrawal on November 18, the directorate of estates also revealed that it had passed eviction orders against Kumar twice in the last 21 years – the first time in January 1990 and then in July 2002.
It was her challenge to the first eviction order that led to the court order granting her time to vacate No. 6 Krishna Menon Marg by March 31, 1990, as the directorate put it, "purely on procedural and humanitarian grounds".
Kumar obtained such a reprieve then because her father, Babu Jagjivan Ram, had lived in that bungalow for decades. After Ram's death, the Rajiv Gandhi government allotted that bungalow to her in 1986 in her capacity as MP. The change of regime in November 1989 spelt her trouble as her allotment was cancelled and she suffered the mortification of facing eviction proceedings under the Public Premises (Eviction of Unauthorised Occupants) Act, 1971.
Yet, violating the judicial deadline of March 31, 1990, Kumar managed to retain the bungalow through the brief tenures of the V P Singh and Chandra Shekhar governments. Shortly after theCongress party returned to power under P V Narasimha Rao, the cabinet committee on accommodation decided in October 1991 to allot the bungalow for life with retrospective effect from March 1990 to Ram's widow, Indrani Devi.
Article viewed on Oye! times @ www.oyetimes.com