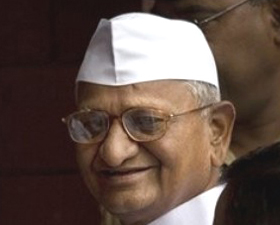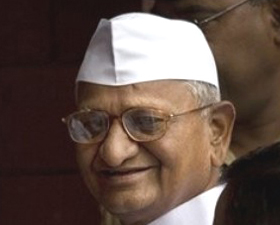 After months of deliberations, the Parliamentary Standing Committee on Lokpal will meet on Wednesday to finalise draft bill even as Anna Hazare has made his intent clear on launching the agitation again if his demands are not.
As per reports, the draft bill has recommended keeping lower bureaucracy and judiciary out of the ambit of the Lokpal – a decision which goes against the promise given to the Gandhian.
The Parliament had passed a 'sense of the house' resolution agreeing to Hazare's demands after which he ended his marathon fast at Ramlila Maidan in August.
More importantly, there appears to be near unanimous decision in the drafting panel about keeping the Prime Minister out of the purview of Lokpal, reports said.
Anna Hazare has already upped the ante and has warned of another fast beginning Dec 27 if his demands are not met.
"Will fast for a day at Jantar Mantar on December 11. I request everyone to fast and protest wherever they are all over the country. Parliament is in session till December 22. If a strong Lokpal Bill is not passed, then will agitate again at Ramila grounds from December 27," he said.
Anna also said, "We wanted the CBI to be brought under the Lokpal Bill too as the investigating agency is not independent. It works at the behest of the ruling party. All those who are in the jail are because of the uproar of the people." How many ministers have gone to jail for corruption in the last 65 years in India, "he asked.
Article viewed on Oye! Times @ www.oyetimes.com