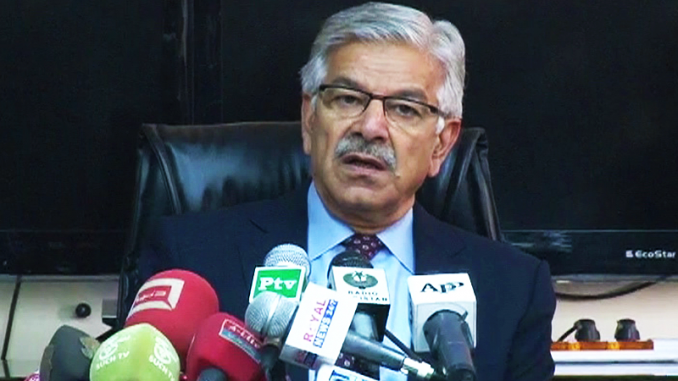 Defence Minister Khawaja Asif mentioned in a statement on Tuesday that Pakistan has right to take action against terrorists based across its border with Afghanistan because it would not remain quiet on martyrdom of their troops. Meanwhile, five Pakistani troops embraced martyrdom yesterday in an attack by terrorists, based across the border, on Pakistani ckeckpost in Mohmand Agency.
The military's information wing, Inter Services Public Relations (ISPR), confirmed that soldiers embraced martyrdom while foiling a terrorism bid on three border checkpoints in Mohmand Agency on Sunday night. It was explained that the shootout took place between army personnel and terrorists, leaving at least 15 militants dead. Chief of Army Staff General, Qamar Javed Bajwa, was quoted as saying that "terrorists must be denied freedom of movement along the border" as he lauded the immediate response of the personnel while also expressing grief over the loss of precious lives.
In his remarks, Asif stated that "Kabul has admitted that it does not have control over areas from where terrorist attacks are launched and, after this admission, Pakistan has the right to act against those terrorists." He stressed that "we will not stay quiet if our soldiers are martyred". "It is our duty to respond to these cross-border attacks and we will respond befittingly." According to Asif, "our desire for cordial ties with Afghanistan aside, but responding to cross-border attacks from the Afghan soil is our duty."


Loading ...