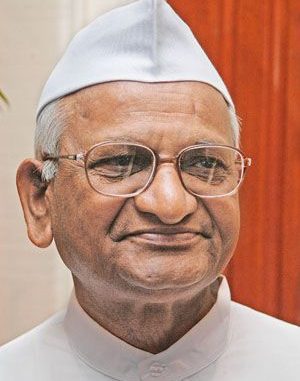 Anna Hazare on Thursday has endangered a 'jail bharo' confrontation from Jan 1 if an effective Lokpal bill was not passed during Parliament's winter session and also warned that he would sit on protest outside the houses of Congress president Sonia Gandhi and her son Rahul Gandhi.
Addressing journalists after a meeting with leaders of his team, Hazare has told that if time was an issue, then the winter session of Parliament, scheduled to end Dec 22, should be comprehensive.
"All those people emotionally involved with this movement and who feel strongly about the Jan Lokpal bill will participate in the "jail bharo andolan". We will fill jails all over the country," Hazare has told reporters here. Hazare has said that there would be an imprecise fast from Dec 27 in either Delhi or Mumbai. Besides, protests would be staged outside MPs' houses.
"I will be found outside the homes of Sonia and Rahul Gandhi," added Hazare. And if the Lokpal bill became effective, there would be a "swagat" (welcome) ceremony at the Ramlila ground, Hazare said. "This is not a question of Anna; this is a national question… It is a question connected to the poor," Hazare told, stressing the importance of his description of the Lokpal (ombudsman) bill.
He has declared that Class 3 and 4 government employees had to be brought under the ambit of the Lokpal. "We will not recognize it otherwise," Hazare said, adding that he would insist on it even if it meant risking his life. He has told that the bill had come in parliament eight times but had not yet been passed.
Hazare's ire comes a day after an all-party meeting on Wednesday, unsuccessful to arrive at a consensus on some key supplies of the Lokpal bill. Some leaders have supposedly said the government should not pass the bill in a hurry in the session.
Article viewed on Oye! Times at www.oyetimes.com