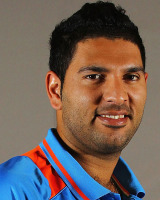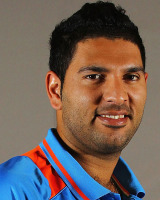 Indian cricket team celebrity, Yuvraj Singh has been diagnosed of lung cancer. His physiotherapist made an announcement this Sunday declaring that the World Cup celebrity is under treatment in the United States since January.
Yuvraj was detected with cancer earlier as well. However, the doctors declared his sickness to be malignant. Yuvraj's personal physiotherapist, Jatin Chaudhry spoke to the media. He said, "He is suffering from cancer and this is the first stage. It's curable and he will be fit to play in May. He will be back on the field very soon."
Yuvraj is being given the treatment for tumor between his heart and left lung. The treatment started early January and is expected to take a minimum of nine weeks to recover completely. However, the Board of Control for Cricket in India (BCCI) states that it could take longer as well.
Family members of the celebrity are determined to see Yuvi get well soon. They stated that Yuvraj Singh has made comeback to the team several times and he is determined to do it again. The chemo sessions are taking place and Yuvraj is already losing weight.
They said, "He is showing common after-effects of the treatment – loss of appetite and nausea. He is anxious but also keen to fight the ailment."
Sports minister has also made a statement in support of Yuvraj. He said, "Wish Yuvraj a speedy recovery! Asking officials to find the quantum and nature of help required. Government should & will help him."
Article reviews on Oye! Times at www.oyetimes.com