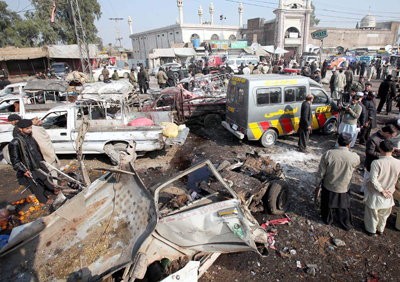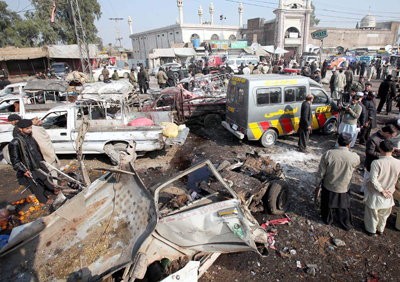 A car blast blew one of the outdoor mini bus stations in Peshawar into pieces killing at least 15 including two children with an additional 35 injured.
The injured have been transported to nearby hospitals. Hospital management informs several brought from the scene are in critical condition. Death toll expected to rise.
Rescue and Investigation teams reached the location within no time. Dozens of vehicles were blown into bits and pieces creating a deadly scene as families of the dead and missing arrive at the scene. Officials have reported the reason of blast to be explosives worth 40 kilograms which were installed in a car parked in the bus station.
After initial investigations completed, Information Minister of Khyber PakhtoonKhaw Mian Iftikhar Hussain spoke to the media and said, "This is not a suicide bombing. It was a remote-control car bomb with explosives fitted into a car. So far 15 people have been martyred, 35 are injured. At least five of the injured are in serious condition. God forbid the number of martyrs could rise. An incident like this has not happened for a long time".
No militant group has claimed responsibility as yet.
Officers raise their concerns that the blast could also be in response to the military operation being carried out in a nearby location of Peshawar.
Article viewed on Oye! Times at www.oyetimes.com