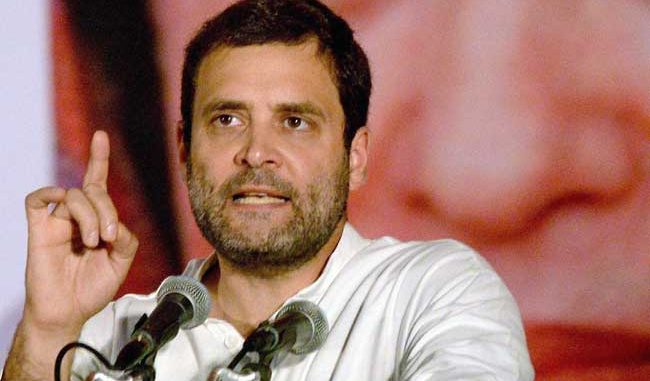 This article was last updated on May 27, 2022
Canada:

Oye! Times readers Get FREE $30 to spend on Amazon, Walmart…
USA:

Oye! Times readers Get FREE $30 to spend on Amazon, Walmart…
The results for the much awaited Gujarat elections are out. BJP has managed to hold onto its citadel by winning 99 (-16) seats while Congress led alliance improved its tally by bagging 80 seats (+16). This is a significant improvement considering there was mass exodus of Congress MLAs, 17 to be precise, just months before elections. Congress ally Bharitya Tribal Party won 2 seats while backed independent candidate & Dalit leader Jignesh Mevani won from Vadgam. In terms of vote share while BJP recorded 49.1% (+1.2%), INC led alliance recorded 42.4% (+3.5%). While a victory is a victory and one can't take away BJP's sixth straight win, Congress has pulled its weight behind led by Rahul.
Congress banked on Hardik charisma among youth
The Congress party banked a lot on Hardik Patel, but it doesn't seem to have worked. As per reports as many as 19 seats were handed over to Hardik by Congress, including seats which it anyways would have won. Hardik's doctor as well as advocate were given tickets by Congress. He drew huge crowds in his rallies, some even suggested, more than Modi and Rupani. However, the desertions within his party appear to have weakened his agitation. He always had good pull among the youth, however he didn't enjoy the same support among the middle and old age group. Hardik magic did hold sway with youth voters of 18-25 age group. In this category, INC was leading against BJP by 1% as per Axis exit poll. So while youth switched to INC, other age group voters of community stuck to BJP. It may have so happened that some of them decided not to vote exhibited in low turnout vs 2012.
Patel were seen supporting Congress in opinion polls
As per CSDS tracker of opinion polls BJP was seen consistently losing support among Patels. BJP had a lead of 58% in Aug. 2017, which fell to 20% in October 2017. In November 2017, CSDS polls showed Congress leading by 2% among Patidars. As per Axis opinion poll as well, Congress was leading among Patel voters with BJP losing almost half of its support from 70% to 39% and Congress along with Hardik garnering half of Patel support.
CSDS Opinion Poll Tracker: Party Lead among Patidar Voters

Orange: BJP, Blue: INC
We do not have exact caste wise break up of voting preference, however, Today's Chanakya exit poll call is close to actual vote share of BJP of 49%. So we can safely assume to be more or less correct. What an irony, that it predicted accurately BJP vote share however lost out on seats tally massively (30-35 seats).
Chankaya exit poll showed 54% support of Patels (-16%) to BJP despite Hardik factor and only 37% support to Congress. This has resulted in a loss of 2.5% vote share to BJP but is half of what was expected of about 5%.
Patidar Voting Preference in 2017 (Expected)

Performance in Patel influence seats
Kadwa Patels have significant have significant influence in 32 seats in North Gujarat and parts of Saurashtra. Leuva Patels have significant influence in 41 seats in Saurashtra, Kutch & South Gujarat.
| | | |
| --- | --- | --- |
| Saurashtra & Kutch | 2012 | 2017 |
| BJP | 32 | 23 |
| CONG | 21 | 30 |
| | | |
| South | 2012 | 2017 |
| BJP | 28 | 25 |
| CONG | | |
In Saurashtra & Kutch, Patel support has helped Congress and it is leading in this region. Though this region is also the hotbed of agrarian crisis, which also helped Congress. In South Gujarat where the Patels form majority of the traders community, Hardik jadoo didn't work. In 32 seats of North Gujarat, Congress (16) and BJP (15) shared honours.
In Mehsana, the epicenter of Patel agitation, BJP had won 5 seats in 2012 and Congress 2. This time Congress won 4 and BJP 3. There are 12 seats which are dominated by Patels – Morbi (1), Rajkot (4), Amreli (6), Varchcha Road. BJP had won 8 in 2012, this has marginally gone down to 6. Congress has increased its tally from 4 to 6 in these seats. In fact in Varchcha Road where Patel population is more than 1 lakh, BJP has retained its seat.
Questions remain for Hardilk?
Two questions will charter out the course of action of Hardik.
What happens now to Patidars agitation? Will Hardik aggressively force this issue again? Will he get Congress support?
What happens to his career? Will he join Congress? Will he contest next Lok Sabha?
To conclude, Hardik did help Congress with a section of Patel votes disillusioned with BJP, however, the turnout in his rallies doesn't appear to convert fully into votes. He needs some time and work harder to become a true leader of the Patidars.
Click HERE to view more.

You can publish this article on your website as long as you provide a link back to this page.
You can publish this article on your website as long as you provide a link back to this page.