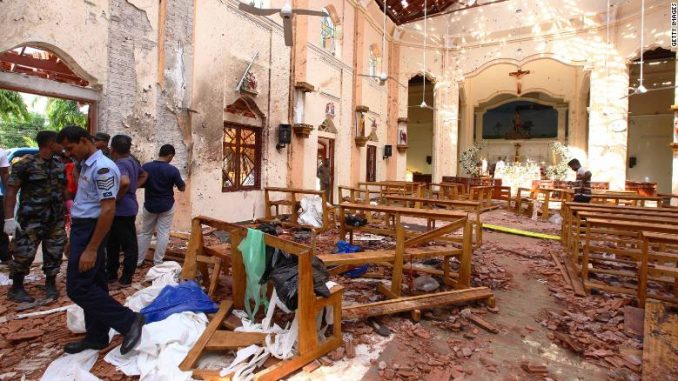 Sri Lanka's Easter Sunday bombings were retaliation for a recent attack on mosques in New Zealand, the country's state minister of defence said. Ruwan Wijewardene made the comment to politicians in parliament on Tuesday without providing evidence or explaining where the information came from about the attacks that killed 321 people.
"The preliminary investigations have revealed that what happened in Sri Lanka was in retaliation for the attack against Muslims in Christchurch, but we are continuing investigations," Wijewardene said.
Fifty people were killed in shooting attacks on two mosques in the New Zealand city of Christchurch on March 15.
The office of New Zealand's Prime Minister Jacinda Ardern said she is aware of comments linking the bombings to the mosque attacks in Christchurch, though it hasn't "seen any intelligence upon which such an assessment might be based".
A little-known Muslim organisation, National Thawheeth Jama'ath (NTJ), has been linked to the worst attacks on the Indian Ocean nation since its civil war ended a decade ago.
Wijewardene said that along with NTJ, another local group, Jammiyathul Millathu Ibrahim (JMI) was also believed to be involved in the attacks.
"It was done by National Thawheed Jama'ut along with JMI," he said.
Meanwhile, the Islamic State of Iraq and the Levant (ISIL, ISIS) on Tuesday claimed responsibility for the attacks but provided no evidence.
Prime Minister Ranil Wickremesinghe said at a news conference he believed the Easter day attacks had links to ISIL, and the government's security agencies were monitoring Sri Lankans who had joined the armed group in Iraq and Syria and returned home.
"We will be following up on IS claims, we believe there may be links," he said.
At least 40 people have been arrested in connection with the attacks and a state of emergency has been imposed, giving police extensive powers to detain and interrogate suspects without court orders.
An overnight curfew has also been in place since Sunday.
Wijewardene said immediate steps should be taken to ban such organisations and called for all suspects to be apprehended.