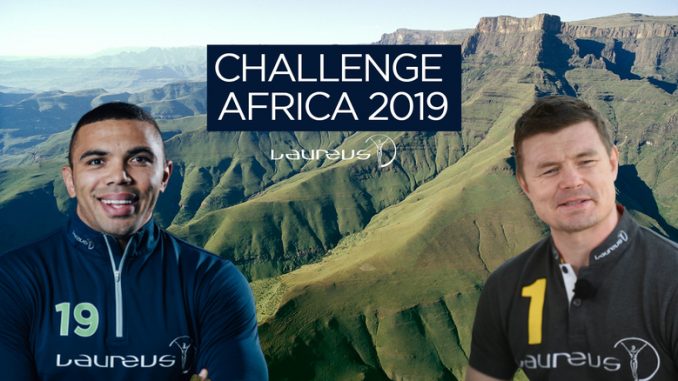 Between them, Brian O'Driscoll and Bryan Habana have amassed 262 international caps, scored 114 international tries, won a Rugby World Cup and climbed no mountains. Next month, that will all change as the Laureus legends swap rugby boots for hiking boots and trek 100km through South Africa's Drakensberg Mountain range to raise funds for Laureus Sport for Good.
Brian and Bryan will be joined on the trek from 14 – 19 May by Laureus Ambassador Annabelle Bond, the fastest woman to climb all seven summits, Laureus Ambassador and South African TV personality Dan Nicholl and 100 inspirational fundraisers from around the world. Laureus Ambassador and South African rugby legend Jean de Villiers will also offer his support, seeing the participants off from camp on the first day of the trek.
The Challenge Africa trek will test participants' mental and physical stamina, taking them across steep and strenuous mountain passes, scaling to elevations of over 3,000m and trekking through a game reserve alongside zebras and antelope.
All funds raised by participants on the trek will support the work of five Laureus-supported programmes around the world; Active Communities Network (Northern Ireland), Active Communities Network (Republic of Ireland), Coolplay (South Africa), Mathare Youth Sports Association (Kenya) and Model City Hong Kong.
With the support of Laureus Sport for Good, each of these programmes is using sport as a tool to improve the lives of young people. For example, over 160,000 young people have been through Active Communities Network programming in the UK and Ireland since 2007, with great success: 30,000 participants have moved into education, training or employment.
Former Ireland, British and Irish Lions and Leinster captain Brian O'Driscoll is the second most capped rugby player of all time. He played 133 times for his country, scoring 46 tries and winning one Six Nations Grand Slam in 2009. South African 2007 Rugby World Cup winner Bryan Habana was one of the most prolific try-scorers in world rugby, scoring 67 international tries in 124 caps, placing him second on the all-time try scorer list. Bryan famously equalled Jonah Lomu's record of eight tries in a Rugby World Cup when he helped South Africa win the coveted trophy in 2007.
Laureus Academy Member Brian O'Driscoll, said: "I'm fortunate enough to have spent time visiting the inspirational programmes Laureus Sport for Good supports and they are genuinely changing lives. I'm excited to lead the Challenge Africa trek with Bryan and raise as much money as possible for these great causes."
"Neither of us have any trekking experience so it's going to be challenging and I'm sure the competitive edge will kick in between Bryan and I when the legs get tired. I've faced hostile environments playing rugby for Ireland and the British and Irish Lions in South Africa but I've never taken on any of the big five! I know who I'll be sticking with if we come across any cheetahs!"
Laureus Ambassador Bryan Habana, said: "I'm proud to be joining Brian to lead Challenge Africa in my home country through the stunning Drakensberg Mountain range. I'm looking forward to showing South Africa's incredible scenery and hospitality off to everyone joining the trek."
"I'm more comfortable running 100m than trekking 100km but life is all about challenging yourself and knowing where the funds are going will be motivation enough when times get tough. I've experienced Laureus Sport for Good's programmes in my role as an Ambassador and I know that every cent we can raise will make a positive change for young people around the world."
Globally, Laureus Sport for Good supports more than 160 programmes in over 40 countries who all use the power of sport to end violence, discrimination and disadvantage. Each programme Laureus supports is measured against charitable standards set out by the United Nations, in line with the Sustainable Development Goals.
Challenge Africa is the second Laureus-supported adventure Just Challenge have led, following last year's Challenge Himalayas trek which raised over $350,000 for Laureus Sport for Good. Just Challenge delivers life changing adventures, for all abilities, with impact and meaning. They provide organisations with the opportunities to engage employees, clients and/or leaders through physical challenges.
Follow Brian and Bryan's Challenge Africa trek on Laureus' Twitter, Facebook and Instagram channels.