This article was last updated on April 16, 2022
Canada:

Oye! Times readers Get FREE $30 to spend on Amazon, Walmart…
USA:

Oye! Times readers Get FREE $30 to spend on Amazon, Walmart…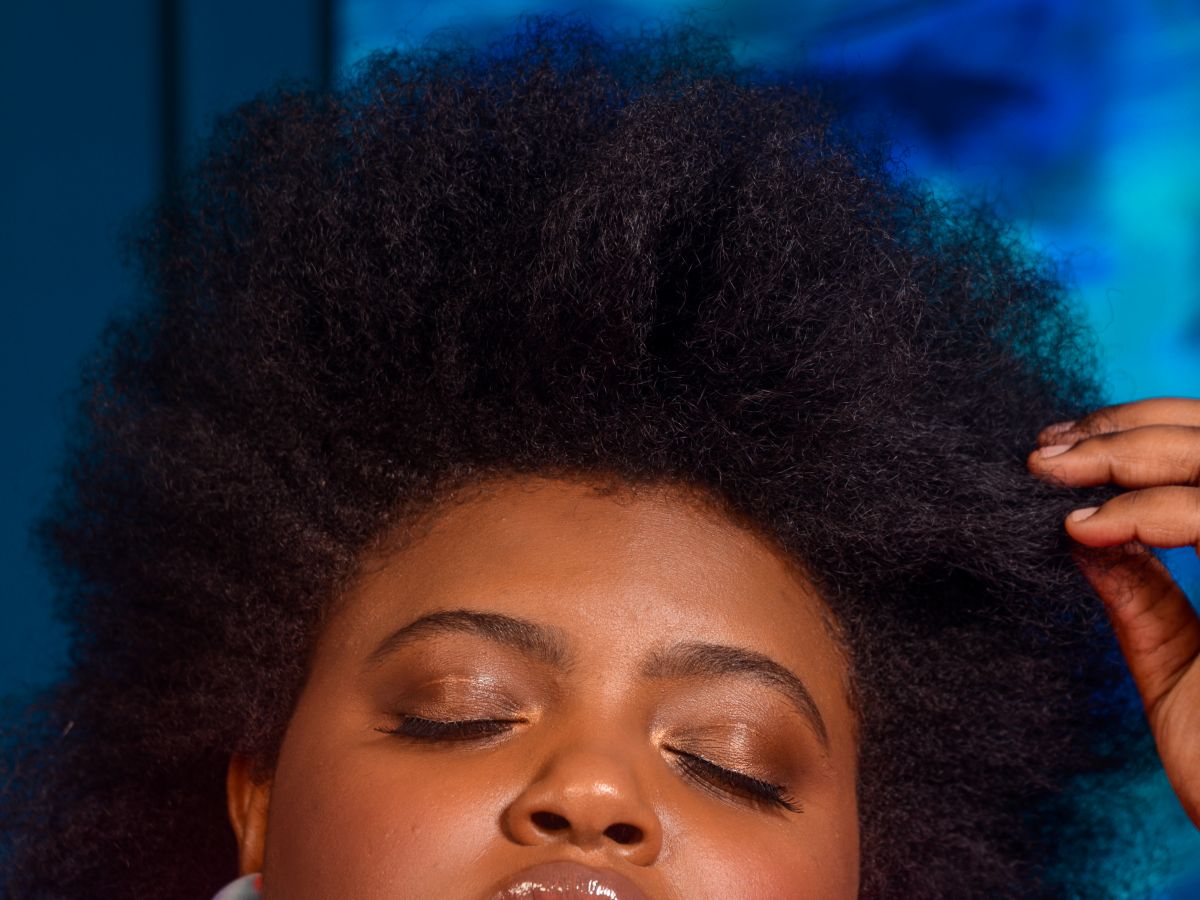 When I decided to transition my hair from relaxed to natural over the course of a year or so, I naively thought I could continue my usual lazy-girl routine — which basically consisted of going to the hairdresser and having someone else deal with my head. But, as more and more new growth began to replace my straighter strands, I became concerned about not only the heat damage that might occur in the long run, but the fact that I was relying on somebody else to do all the work. So, I took on the task of doing my own hair.
I quickly realized I had no idea what I was doing. Turns out, reading countless natural hair blogs and watching many hours of YouTube tutorials does not make one an expert. My first twist-out was such a fail, I ended up covering my hack job with a hat. Don't even get me started on my botched bantu knots. Lawd.
Anyone who's gone natural, or is in the transitioning process, knows the pain I'm preaching. Trying to blend two vastly different textures — while coming up with hairstyles that are presentable enough to go out in public with — is hard work. That's why I enlisted Vida Latimer, senior stylist at Devachan Salon, to help transitioning ladies get through the awkward stages and see the light at the end of the natural hair tunnel.
Click through for some new looks to try out, broken down by your stage in the transitioning process.
Pineapple
Transitioning phase: start one year in
If you want to preserve your curls after a twist-out, this high ponytail with a sleek base is the best (and cutest) way to do so.
Bantu Knots
Transitioning phase: start to one year in
Bantu knots are a great way to mask your two different textures from the beginning until the end of your journey. Plus, they will give you much-needed practice for mastering the notoriously frustrating style.
Braid-Out
Transitioning phase: start to one year in
With braid-outs, you can go the cornrow route, as seen here, or do free-form box braids. Leave them in overnight (on damp or dry hair) for the best results. When you take them out the next morning, you'll have big, beautiful hair, reminiscent of the '90s crimp look.
Perm Rod Set
Transitioning phase: any
Craving some serious definition? After washing and conditioning, section your hair off and saturate it with a setting lotion, curling cream, and a little bit of oil, Textured Talk advises. Then, wrap your sections around perm rods that are most appropriate for your length. You can let your set dry overnight, or sit underneath a hooded dryer for the curls to form.
Comb Coils
Transitioning phase: any
While your hair is wet with conditioner, moisturize with a non-flake gel or a cream. Take the end of a rattail comb and wrap small sections around it, creating a spiral. Dry overnight or sit underneath a hooded dryer. Some people use the actual fine teeth of a comb, but this takes a little bit of extra care to avoid breakage.
Photo: Via @tressedbyb.
Straw Set
Transitioning phase: any
It's like a rod set, except with cut-up straws. Sounds odd, but the tinier curl formers are ideal for those with smaller Afros.
Top Bun
Transitioning phase: one year in
The one-year mark is when the struggle starts to get real. Finding a cute, chic way to tame your new texture is not easy, and this is an inconspicuous way to keep it under wraps. If you have longer hair, this is a great go-to style for when you want to wear it away from your face (or are just having one of those lazy days). "The wide band keeps roots smooth," says Latimer.
Marley Twists
Transitioning phase: start to one year in
This option is great if you want to give yourself a break from DIY styling, says Latimer.
Box Braids
Transitioning phase: start to one year in
Latimer adds that when doing Marley twists or box braids, it's important to use good human hair and ensure the styles are not too tight."Otherwise, [your new hair coming in] won't be able to get enough conditioning for optimal growth," she says.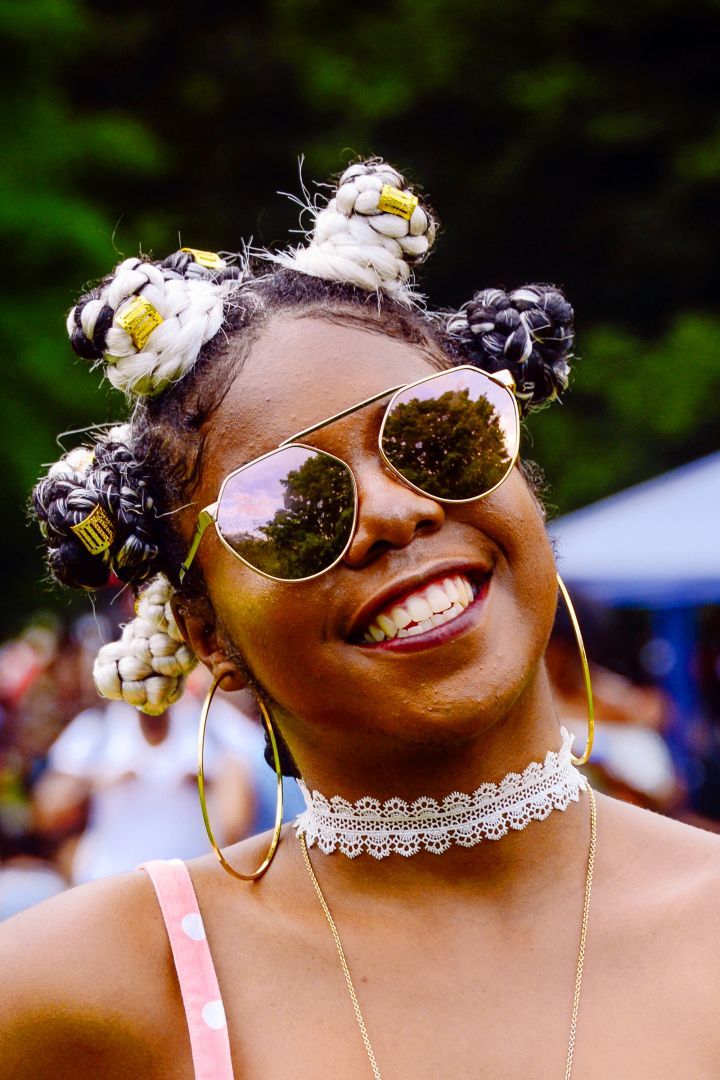 Box Braid Bantu Knots
Transitioning phase: start to one year in
If your braids are starting to loosen up, hide your roots with this easy style (as seen at Curlfest 2017).
Photographed by Rochelle Brockington.
Braided Updo
Transitioning phase: start to one year in
Another protective style to consider when transitioning to natural hair is this braided updo. Similar to box braids and Marley twists, it will keep your ends tucked in and shielded from the environmental stresses — AND it means your hair is already styled for you.
Twisted Updo
Transitioning phase: three to six months
Remember that ultimate-curls look? This is a great follow-up, for once you grow tired of wearing your hair out. Just pin your hair toward the front of your head and flat-twist it in three sections up the back portion. When styling, Latimer recommends skipping the gel and opting for a cream instead, which will offer control along with moisture. Finish with a moisturizing shine serum (like this one from SheaMoisture).
Three-Bun Updo
Transitioning phase: any
Issa Rae's hair always manages to wow us on the red carpet, and her looks are also great inspiration if you're in a rut with styles. In this video, her stylist Felicia Leatherwood breaks down how to achieve her signature three-bun updo. All you'll need are three vertically-lined buns, some extra hair (depending on your natural length), and lots of edge control.
Goddess Braid or Twist
Transitioning phase: nine months to one year in
Some women worry that natural hair is "not work-appropriate." We think that's a load of BS, but if your coworkers aren't as enlightened as you, this wraparound braid is an elegant and finished 'do that will work in any office environment. "After this style, you can do a rod set or twist-out, to start to wear it curly," Latimer says. For similar tutorials, check out Black Girl with Long Hair.
Curly Fauxhawk
Transitioning phase: any
This isn't for the faint of heart, as it takes some skill. But, if you can master cornrows and spiral curls, it's an edgy look that's sure to turn heads. Latimer says the braids shouldn't be too tight — and don't forget to hydrate.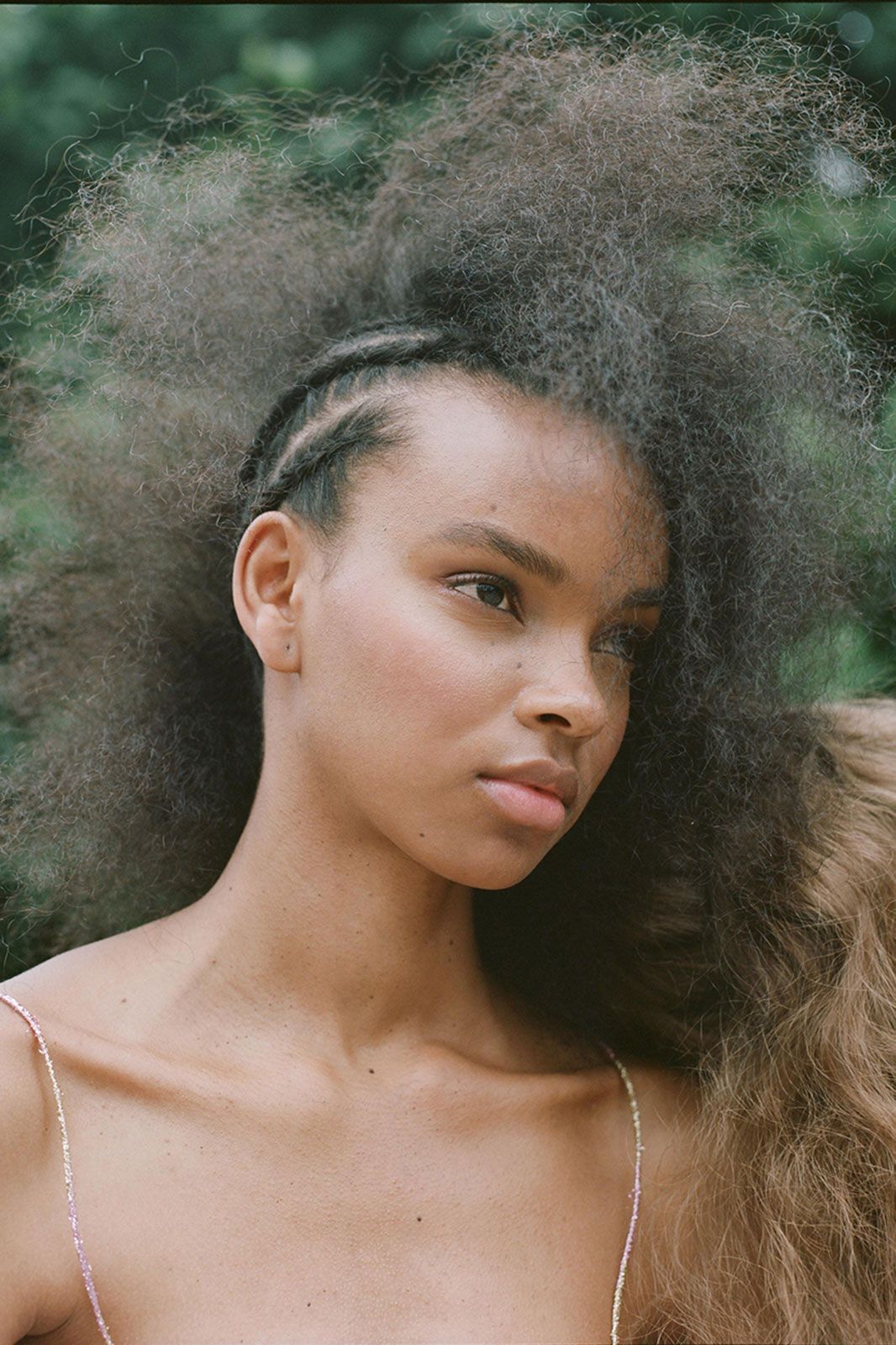 Faux Undercut
Transitioning phase: any
If you don't want to go full fauxhawk, just braid one side and leave your hair loose on the other, as seen in this editorial. Jeanie Syfu, hairstylist and Tresemmé spokesperson, suggests weaving three cornrows "in an undercut style to enhance the texture of the rest of [the] hair."
Photographed by Amber Mahoney.
Voluminous Curls
Transitioning phase: one year in or more
Trimming off your damaged ends will add major bounce back into your curls and give you volume like you've never seen. Make sure to have a hydrating, lightweight serum on hand to restore any lost moisture.
Soft Twists
Transitioning Phase: three to six months in
Updos can put a lot of tension on your growing hair, so let it relax with loose twists. These are great for shorter hair lengths looking to play with a fun style. Plus, you're able to add some needed nourishment if you seal in the ends with a bit of oil or serum.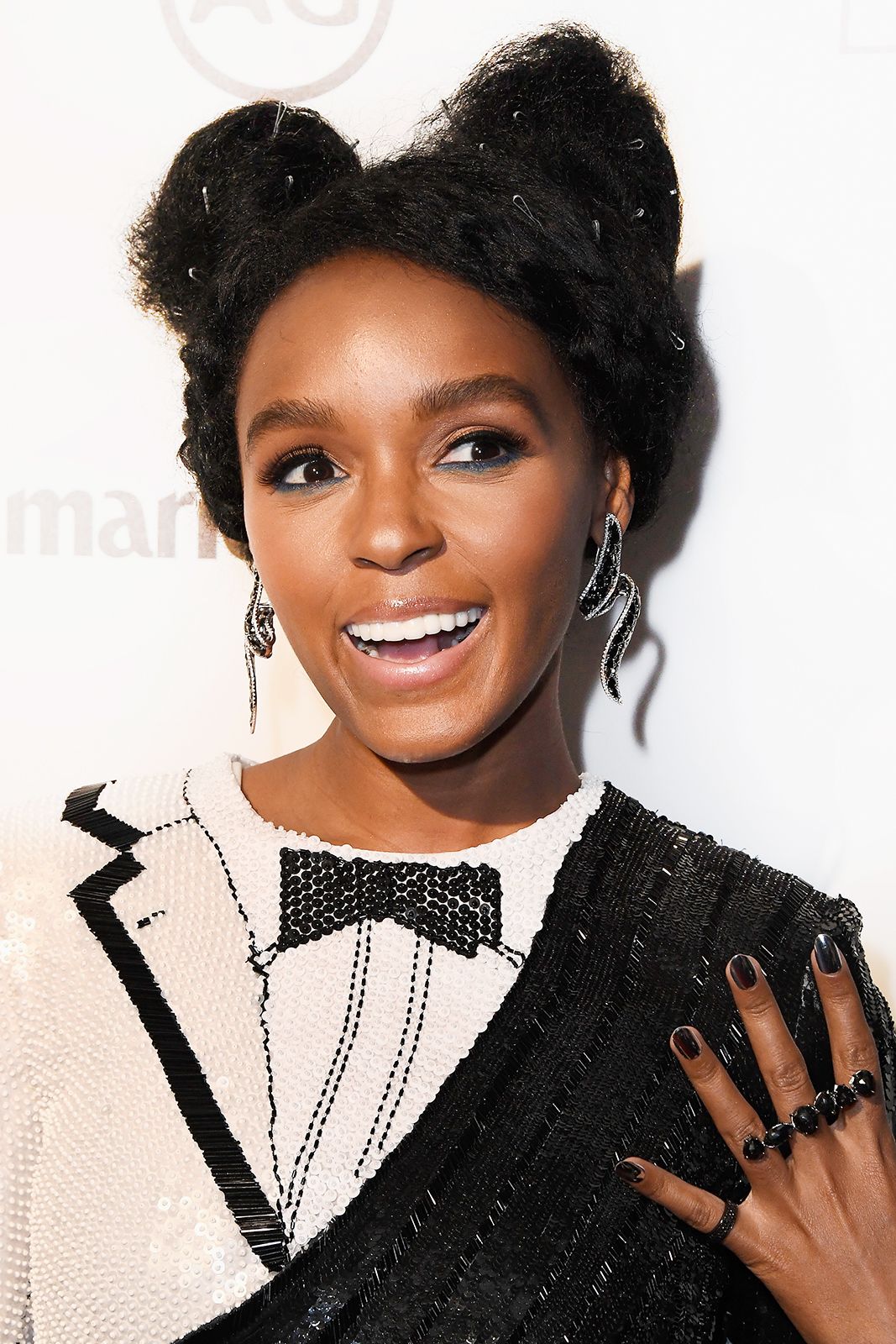 Double Buns
Transitioning phase: any
Follow Janelle Monáe's lead and go for playful, double buns. The best part? It takes barely any time at all. Part your hair straight down the middle (leaving your bangs out, if you have any), create high pigtails, then wrap the hair around the base of each and secure.
Photo: Frazer Harrison/Getty Images.
Half Up, Half Down
Transitioning phase: start to one year in
For the days you can't deal with your hair in your face or deal with too much product, go for the half-up pony.
Crochet Braids
Transitioning phase: any
If you don't want to deal with the hassle of a weave, crochet braids are your best friend. Instead of stressing out your strands with a sew-in that can damage your hairline, simply latch your extensions on to your cornrows with a needle.
Crochet Locs
Transitioning phase: any
If you don't want your hair out, then crochet locs (installed the same way as braids) are a great option.
Tree Braids
Transitioning phase: any
With tree braids, your stylist does cornrows but leaves the bulk of your extensions loose, according to Neno Natural. The braids are knotted to keep them from unraveling.
Flexi-rod Set
Transitioning phase: any
Flexi rods are a great tool for creating spiral curls. The style is especially great to help mask straight ends when you're in that "in-between" stage where your roots are curly, and ends are not.
Lemonade Braids
Transitioning phase: any
If you want to wear cornrows but want to switch up your look, try out Lemonade braids. The side-swept plaits, which can be big or small, were dubbed after Beyoncé's iconic Lemonade album cover and will look stylish during any phase of your switch to natural.
Passion Twists
Transitioning phase: any
If Senegalese twists and goddess locs had a baby it would look like passion twists. The style was created by Kailyn Rogers, a Miami-based natural hairstylist, who wanted to create a protective style that looked like unraveled twists. To achieve it, start a normal twist and push the hair up as you go to get a scrunched, lived-in effect.
Click HERE to read more.


You can publish this article on your website as long as you provide a link back to this page.
You can publish this article on your website as long as you provide a link back to this page.