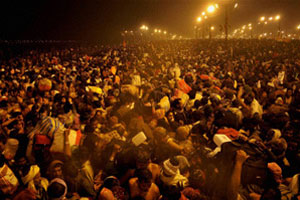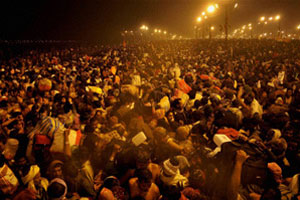 A gathering of at least ten million people was noticed at the Kumbh Mela near Allahabad. The stampede resulted in a tragic death of 36 people. Both the Centre and the Uttar Pradesh government are looking into the disaster. Reportedly, CMO Allahabad Dr Prabhakar announced the death of 14 more people, taking the final death count to 36.

According to the witnesses, police had to use lathis to control the crowd as hundreds and thousands gathered to board trains to return home.

"We heard an announcement that our train is coming on platform number 4 and when we started moving toward that platform through a footbridge, we were stopped. Then suddenly the police charged us with batons and the stampede started," passenger Shushanto Kumar Sen said.

In the wake of the tragedy, Cabinet Minister Mohammad Azam Khan handed in his resignation. Khan grieved and sent his condolences to the families and friends of those who died. He promised that he had put in

great efforts to make the Kumbh Mela a success.

"Though the incident took place outside the Kumbh Mela premises, I take moral responsibility and resign as the in-charge of Kumbh. I am sending my resignation to Chief Minister Akhilesh Yadav," Khan told the media.

Congress President Sonia Gandhi also expressed grief over the incident. Prime Minister Manmohan Singh instructed the Railway ministry to facilitate the Uttar Pradesh government in the matter.