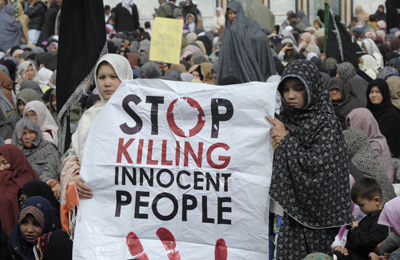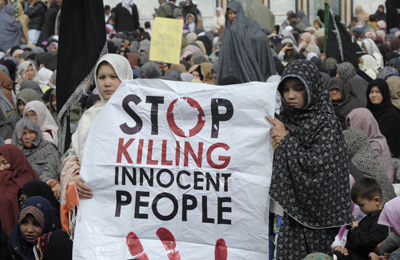 The protests and sit-ins against Quetta massacre cripple Karachi city, killing at least ten people including Managing Director (MD), Pakistan Machine Tool Factory (PMTF), while leaving several injured. Reportedly, three vehicles and four bikes were burned down in different areas.

The protesters managed to halt Karachi's air service, public transport, railway service and cargo. Moreover, all major markets and business centers remained shut. The security forces baton charged protesters in Kharadar area and detained over a half dozen of them.

The security forces report two unidentified armed riders opening fire in Bhens Colony. The gunshots injured Arshad Parvez, 60, son of Chaudry Rehmat Ali, and Kashif, 25, son of Shabbir Hussain. Both were rushed to Jinnah Postgraduate Medical Centre (JPMC) for emergency treatment.

According to DSP Rao Iqbal, Arshad Parvez, MD PMTF succumbed to his injured. The victims were targeted when they were returning from the factory. The motive behind the murders is yet to be ascertained.

Haris son of Younus, Rehmat Ali son of Gul Bahadur sustained bullet wounds near Valika roundabout; Hussain, 18, son of Abbas Raza and Kamran, 25, son of Ali were injured during a clash with police in Kharadar; Abdullah, 35, son of Usman was injured in Angorabad, Aga Taj colony; Ibrahim, 55, son of Ramzan at Patel Para.