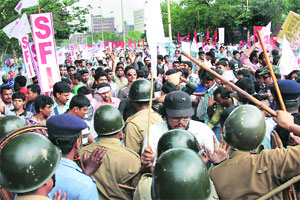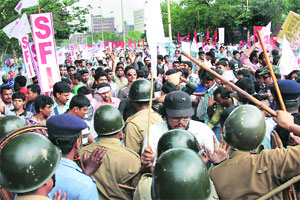 Kolkata city remained shut on Thursday after the tragic death of Students Federation of India activist Sudipto Gupta. The SFI called the strike and made sure that there were roadblocks in various places across the city.
A Congress student delegation will present its demands to the West Bengal Governor at 4pm. The federation wants a judicial probe into Gupta's death. The deceased was an MA student at Rabindra Bharati University. The majority believes he died due to police brutality. Gupta was admitted to hospital where he succumbed to his injuries.
"He [Gupta] was hit on his head so hard that one of his eyes came out. We were courting arrest when the policemen started beating us in the bus. One of the policemen hit Sudipto's head with a lathi and he fell down. When we demanded immediate medical help for him, the police refused," SFI General Secretary Satarup Ghosh said.
On the other hand, police alleges that Gupta fell off the bus and died. Javed Shamim, Joint Commissioner of Police, Law and Order said there was a scuffle inside the bus as the students shouted slogans – one of the students hit a lamp post and was critically injured. According to the post-mortem report, Gupta had suffered injuries to his forehead, the back of his head and had a broken jaw.
"Any death is unfortunate. This is also unfortunate. I will not say anything more than this," said West Bengal chief minister Mamata Banerjee.
Gupta's father Pranab Gupta has refused to accept any help from the state government.
"My son was beaten to death. Is it justice? I was a central government employee. I get pension. I cannot accept any money. It is against my principle. She is offering me money, but can she return my son? I want them to be punished. How could they torture a 23-year-old boy like this."