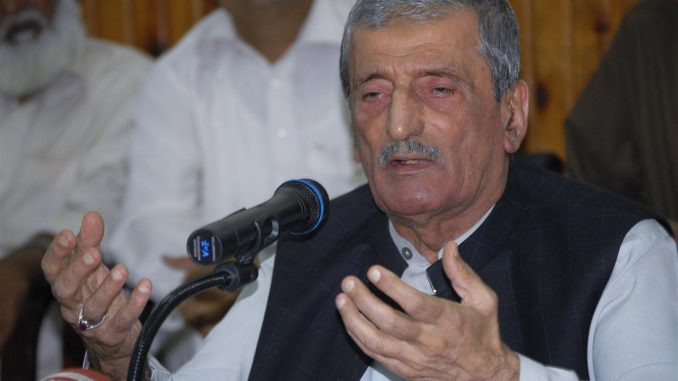 Senior leader of the Awami National Party (ANP) and candidate for NA-1 Peshawar Ghulam Ahmad Bilour has requested the Election Commission of Pakistan (ECP) to scrutinize the media campaigns of his arch-rival, Pakistan Tehreek-e-Insaf (PTI).

Talking to the journalists on Thursday, Bilour complained that PTI chief Imran Khan has been receiving unfair media coverage which is overshadowing the election campaign of ANP and other parties.

"Imran Khan is candidate of PTI from NA-1 and he should not be given extra-coverage as compared to his rivals. Some of the private news channels are giving 30 to 45 minutes coverage to Imran Khan while the same channels are not giving us even 15 minutes," Bilour complained.

Bilour urged the ECP to take notice of commercial advertisements of Imran Khan, which he deems as unlawful.

"The Election Commission has fixed Rs 1.5million for campaign of National Assembly candidate. It (ECP) should check the cost of the Imran Khan's advertisements being aired on TV channels," he stated.

In addition, Bilour also articulated serious concerns over the security of his party members who are believed to be on the hit-list of militant groups. He requested the provincial government to significantly enhance the security of ANP candidates so they can freely convey their message and use their right to fully run an election campaign.

"We cannot hold rallies and big public gatherings and instead of providing more security to us, the government has taken off the security… The former military dictator Pervez Musharraf seems to be more loyal and patriotic than us as he was given foolproof security," he stated.

Malik Ghulam Mustafa, ANP candidate for PK-2, Haroon Bilour, ANP candidate for PK-3, Ghazanfar Bilour for PK-1, provincial vice-president Hameed-ur-Rahman Mohammadzai and other party leaders were also present on the occasion.