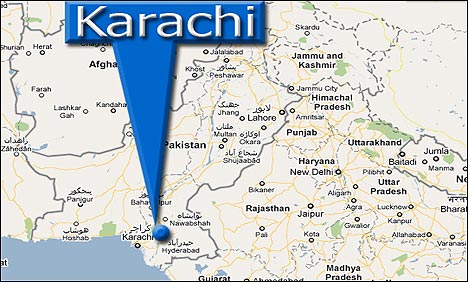 This article was last updated on April 16, 2022

The Rangers have successfully arrested a number of criminals during raids in Karachi. The targeted operations have successfully resulted in the arrests of some most wanted criminals looming freely in the port city. The Rangers also found some weapons and armaments, which are allegedly manufactured in India.
"It is not our tradition to stoop so low in our conduct. Looting of office equipment and other items and graffiti must have been done by the criminals within the folds of the political party. This kind of tactics will not deter the Rangers from fighting crime and terrorism in the city and we pledge to provide peace to all Karachiites," the Rangers' spokesperson said.
The Rangers have arrested a high profile criminal from MQM's sector office in Qauidabad. The killer provided useful information about other criminals, which led to a series of raids in Landhi No 5 where Ranger arrested 14 criminals, including Shamim alias Goli and Sajid Hussain.
City Police Chief Additional IG Shahid Hayat claims that a member of MQM is behind the murder of senior advocate Naimat Ali Randhawa, was shot dead last week. IG Shahid confirmed that an MQM worker, Kazim Abbas Rizvi of Unit-178, has already been arrested for allegedly killing eight people, including Randhawa.
"It was a politically motivated target killing, not sectarian… I may be killed, but the operation will continue… We are trying to improve the police performance which remained poor during the last 23 years. It will take time, but the city police will be wiped out of crimes and criminals," Shahid told the media.
You can publish this article on your website as long as you provide a link back to this page.