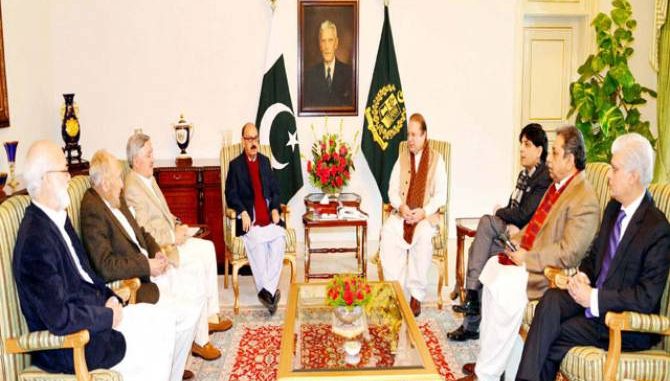 Prime Minister Nawaz Sharif announced this Friday that he wanted a peaceful solution for terrorism in Pakistan. Instead of opting for a military operation against the talibans, Sharif adopted the way of 'meaningful' talks with the Tehreek-e-Taliban (TTP). He gave an open mandateto a peace committee consisting of four members. The committee held its first meeting early Friday which lasted for forty five minutes after which the second session of the meeting was held at the Prime Minister House.

The committee consists of the Advisor to Prime Minister on National Affairs, Irfan Siddiqui, who is also conducting the job of a co-ordinator to the committee. Apart from him the committee comprimises of Major (retired) Aamir, Rustam Shah Mohammed, who is a former ambassador to Afghanistan as well as an expert on Afghanistan affairs and a renowned journalist Rahimullah Yousafzai. 'We do not want to waste time and want to listen to the Taliban's stance and have them listen to ours,' said Irfan Siddiqui, 'We are seriously waiting for start of a meaningful and result-oriented dialogue. The Taliban should complete their consultation process at the earliest and form a negotiating team; this is our first message to them.'

Irfan Siddiqui was optimistic about the peace talks and while answering questions he announced that the process might take weeks or months but will not stretch to years. He said that the result of the peace talks will depend on the answers by the Taliban and what they believe to be their agenda. The peace committee gave a written statement to both the government and the Taliban, asking them not to conduct any action that can disturb the atmosphere built for dialogue. The KPK governor called Siddiqui and assured him of his full co-operation.