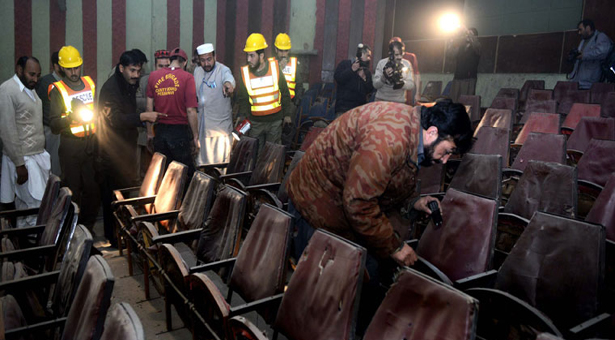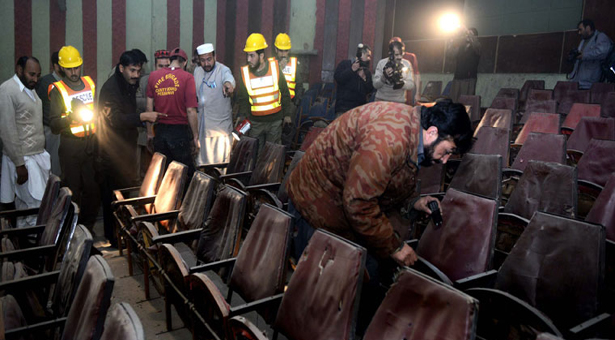 At least 13 innocent people faced their death today and over 20 others were badly injured when multiple blasts rippled through a cinema in Peshawar. This Tuesday saw the second attack on cinemas in Peshawar in the last one week. The blast took place when the Taliban and the government met for their second round of peace talks. Today the police and rescue teams rushed to the blast site and shifted the injured to nearby Lady Reading hospital.

Accordng to CCPO Peshawar Ijaz Khan, three China made hand grenades were detonated inside the cinema. 'It was decided that filmgoers would be allowed to enter the hall only after checking from metal detector,' he said. The CCPO put the death toll at eight while he claimed that another 22 injured. But the hospital sources informed that the death toll rose to 13. The eye witnesses claimed that the blasts were of low intensity and occurred inside the Shama cinema located close to ANP's Bacha Khan center and Radio Pakistan's local office.

Over 100 people were watching the show inside the cinema when the blasts took place. The blast came just eight days after hand grenade attack on a cinema in the same restive town left five people dead. In a press statement released, the Pakistani Prime Minister, Mr. Nawaz Sharif, strongly condemned the blasts and expressed sympathy with the families of victims. The PTI Chairman Imran Khan, MQM head Altaf Hussain and others also condemned the blast. Imran Khan said that such acts of terrorism were aimed at sabotaging peace talks.