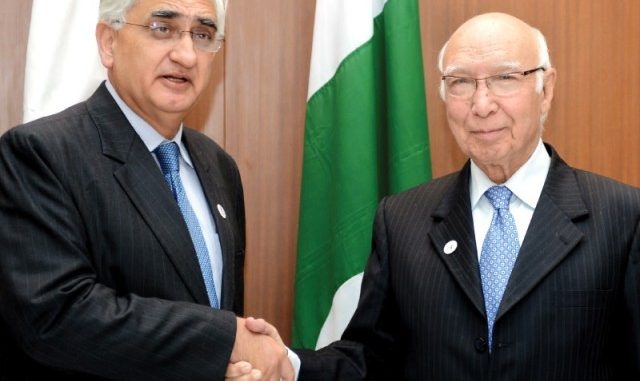 Pakistan and India this Thursday agreed to continue their efforts towards the improvement of relations between them and also addressed each other's concerns in a constructive manner. This was agreed in the meeting when the Adviser to the Prime Minister on National Security and also the Foreign Affairs Sartaj Aziz met and talked with the Indian External Affairs Minister Salman Khursheed on the sidelines of the SAARC Council of Ministers meeting conducted in the Maldives.

The meeting between them was held in a cordial atmosphere and both the Ministers reviewed the progress made towards normalizing bilateral relations between the two countries since the meeting of the two Prime Ministers in New York last year in September. The satisfaction was further expressed over the scheduling of meetings, at the technical level for the cooperation in the power sectors and also over the recent incident regarding the Cross Line of Control trade and the travel Confidence Building Measures, by both Ministers.

Before Sartaj Aziz, the Foreign Minister Shah Mahmood Qureshi also said that Pakistan wants to normalize relationships with India. Talking to the media persons at the airport on February 3rd, the foreign minister said Pakistan has a firm stance that the Kashmir issue is a part of a composite dialogue. He termed the visit of special representative of US president, Richard Holbrooke, as extremely vital and said the economic situation of Pakistan and the war on terror would be discussed with him.