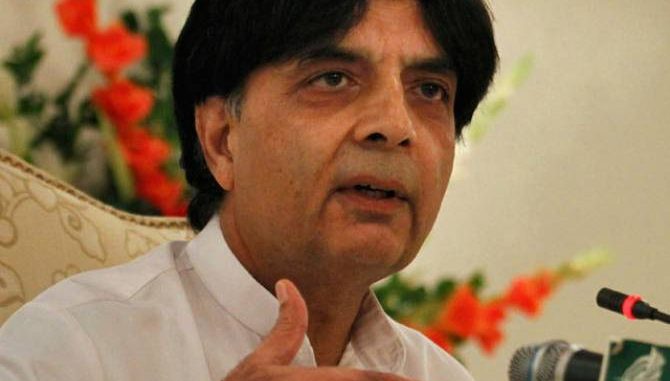 The Interior Minister Chaudhry Nisar Ali Khan informed that the late additional district and sessions judge Rafaqat Ahmed Khan Awan was killed by his own guard by accident and not by the terrorists in the gun and bomb attack that killed 11 others in Islamabad this Monday.

Trying to repair the image of the country as unsafe by some members of the Parliament during the National Assembly, the minister narrated that other countries give messages of unity after such incidents but in Pakistan, the reaction after incidents is the opposite. He stated that the members should avoid statements that demoralize the security forces. Explaining the incident he said, the deceased judge had locked himself and the staff in his retiring room but unfortunately the panicky security guard deployed with him accidently shot the judge with three bullets after the suicide blast. He said speculations must be avoided on the incident of Islamabad district courts. The guard had confessed his crime and the post-mortem report revealed that the judge had not been killed with Kalashnikov but with the guard's pistol.

Referring to the F-8 tragedy in Islamabad, he said that the judiciary and even the lawyers' community reacted in an extremely responsible manner and had sent a strong message to the world that they are united against terrorism. He said similar messages should come out from the floor of the Parliament but unfortunately members cannot do anything but undue criticism. Chaudhry Nisar Ali Khan acknowledged that there are threats but added that, "our weaknesses are not as strong as have been highlighted by the opposition." "Patriotism demands that we should identify our weaknesses but not convey them to terrorists," he added.