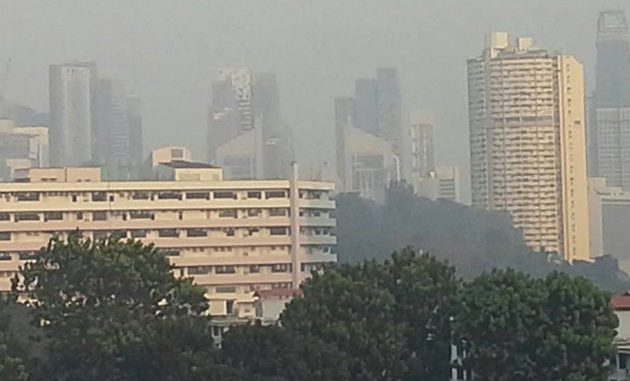 The air quality has worsened today with the three-hour Pollutant Standards Index (PSI) reaching the height of 84 as at 8pm. The 24-hr PSI was between 31 and 56, while PM2.5 was between 18 and 42 μg/m3, according to the National Environment Agency (NEA). The air quality lies between the moderate band when the PSI is between 51 and 100.

"We expect the situation to improve during the night, but high moderate haze is expected to persist for the next few days as northeasterly winds blow smoke from increasing hot spots in Malaysia," said the Minister for Environment and Water Resources Vivian Balakrishnan in a Facebook post. "We will try to contact the Malaysian authorities, and offer assistance if needed," he said. The number of hotspots detected in Peninsular Malaysia today increased to 149 from 86 yesterday. In Sumatra, a total of 259 hotspots were detected today, compared to 228 yesterday. "Smoke plumes and haze were visible from some of these hotspots," said the NEA.

Over the next 24 hours, the 24-hour PSI and the 24-hour PM2.5 are expected to be in the higher end of the moderate band. "However, we expect the haziness to gradually improve over tomorrow night," said the NEA. Singapore is expected to experience fair and warmer conditions over the next few days. Hazy conditions can also be expected if the hotspots in Johor persist.