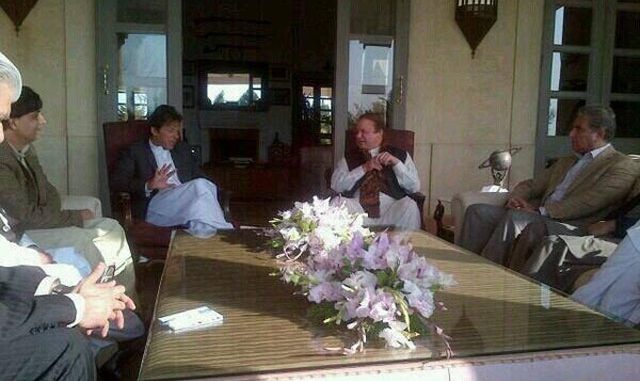 The Prime Minister Nawaz Sharif paid a surprise visit to Imran Khan's house in Islamabad without any security arrangements. The meeting was held at Khan's house located in Bani Gala at the eastern bank of Rawal Lake this Wednesday. Imran Khan said that he had suggested the Prime Minister to hold a meeting but the visit to his house was a pleasant surprise for him.

The Chairman of Tehreek-e-Insaf Imran Khan said he highly appreciated the government's steps for conducting peace dialogues with Taliban and assured that the Prime Minister can accept his party's full backing to ongoing process. Talking to the media at his residence after the meeting with the Prime Minister he said the major problem of Pakistan was terrorism and the restoration of peace. "I understand that the government, Prime Minister Nawaz Shairf and Interior Minister Chaudhry Nisar have been working in the right direction under great pressure". Imran Khan further added that the Prime Minister and the Interior Minister had adopted a positive stand and are providing a complete opportunity to the dialogue process.

"We want to be on same page to face future challenges", he said, adding that a military operation would be the last option after all other options are exhausted and failed. Khan also informed that there was a detailed discussion on terrorism and that the Prime Minister suspected that an enemy country was trying to sabotage the peae talks. Khan still added that he congratulates the government to create division among militants through dialogues which is a major achievement. Now, he added, there are militants and small groups opposed to peace process, willing to talk.