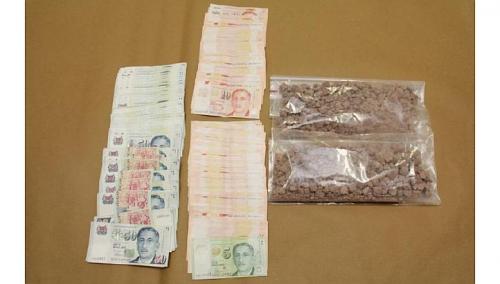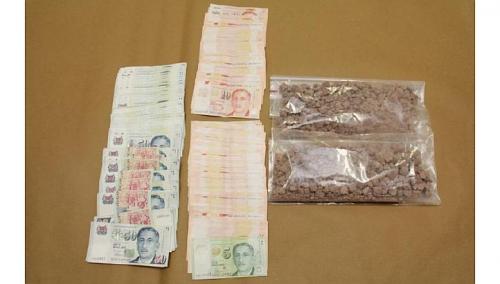 The Central Narcotics Bureau (CNB) this Wednesday captured a total of about 1.07kg of heroin, 18g of 'Ice' and more than S$28,800 cash in a mission to stop drug supply in Singapore. The seized drugs are estimated by CNB to be worth more than S$115,000 and are more than enough to sustain approximately 512 abusers for a week.

CNB officers followed a 51-year-old male Singaporean suspect boarding a black car in the area of Handy Road at about 1pm on the 19th of March. There were two other Singaporean men in the car, which included a 38-year-old driver and a 43-year-old passenger. The car stopped along the Grange Road and the 51-year-old male alighted at about 1.05pm. CNB officers kept observing the car after it drove off. After a while the officers moved to arrest the 51-year-old. A total of about 1,047g of heroin, 18g of 'Ice', S$13,430 in cash and a digital weighing scale were recovered from a sling bag that he was carrying. He was also found carrying S$2,300 of cash.

The other two suspects in the car were then arrested as it came to a halt at the junction of the Tanjong Katong Road and Mountbatten Road at about 1.30pm. Cash of approximately S$13,050 was recovered from the car and additional 27g of heroin, a digital weighing scale and other drug paraphernalia were recovered from the residence of the 38-year-old driver. Investigations into the drug trafficking activities of the three suspects are ongoing.