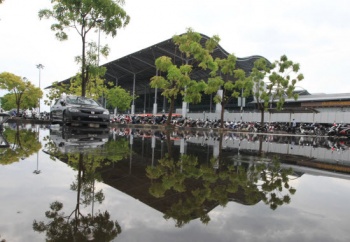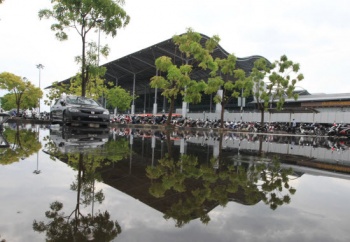 An unusually heavy downpour this Monday night has caused a flash flood at the Penang International Airport in Bayan Lepas, on Tuesday morning. The flood apparently affected the exit area of the arrival hall, which makes it difficult for vehicles to move in and out of the compound.

The heavy rain experienced in Penang last night was an "anomaly" of 62.6mm at the highest level. Normal rain level has been 10-15mm over the past 10 years, according to Malaysia Airports Holding Berhad (MAHB). "Due to weather changes over the past 2-3 years, Bayan Lepas has received more rain than normal," informed a MAHB spokesperson. The total rainwater recorded was 84mm between 7.30 a.m. to 9 a.m. early this morning. The airport drainage system managed to clear the flooding and by 10 a.m. in the morning, the affected areas resumed to normal. "The airport has installed four new pump sumps to channel the water from the main drain into the sea. Under normal circumstances, these would have been sufficient to manage the water drainage," said MAHB.

MAHB also added that it has been trying its best to do "everything it can to contain" the flood situation but said that the problem of flooding has been happening for quite a while, especially whenever there's an extremely heavy rain in the area. "The entire area surrounding the airport is low land and there are a lot of developments. There are some hills that are being cut down. All these has compounded the situation, which affects the school and houses in the area as well," told MAHB.