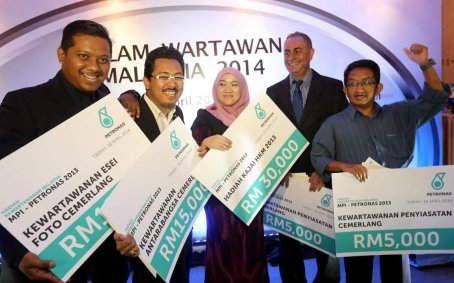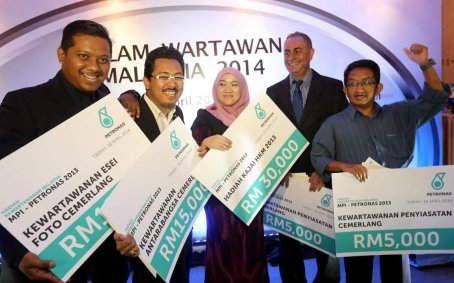 The local broadcast and print journalists were awarded yesterday night for their professionalism and their editorial excellence at the Malaysian Press Institute-Petronas Malaysian Journalism Awards.

The coveted Kajai Award went to Wan Norhayati Wan Alias from Malay daily Berita Harian, who received RM30,000, a 100g gold coin, and an iPad mini from KLCC Sdn Bhd. Winners of other categories received RM15,000 each while the prize money was evenly split for multiple joint winners. There were no submissions for the National Journalism Icon Award this year. A total of 284 journalists took part in the awards, involving 554 news reports, features, columns, broadcast news segments, and documentaries. The winners were determined by a panel of independent judges made up of experienced journalists.

The Deputy Prime Minister Tan Sri Muhyiddin Yassin thanked all the local journalists who covered the MH370 tragedy for their responsible reporting even in the face of competition with their foreign peers. "The local journalists were putting national interests first, and they should not be apologetic for doing so because journalists from other countries are also defending their national interests," he said during his opening speech at the One World Hotel. Muhyiddin said responsible journalism has become a challenge due to the advances in communication technology, when information is disseminated to the masses in an instant regardless of its accuracy. However, he said journalists still have an obligation to report in a fair and accurate manner even as some quarters seek to sensationalize events.