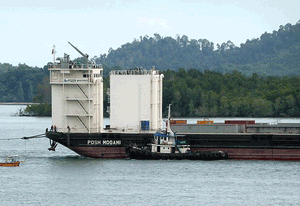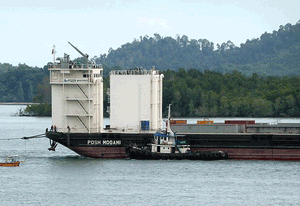 A Singaporean barge near Batam sunk during a trial and lead to the death of three foreign sailors who were on board this Friday, while the barge was discovered on Saturday.

The Indonesian Sea and Coast Guard Unit (KPLP) base operations head Tanjung Uban Faisal informed The Jakarta Post that the barge was being tested at the Out Post Limit (OPL) between Indonesia and Singapore, and there were three foreign sailors and six Indonesian crew members on board. "We were testing the barge by submerging part of the ship that needed to be repaired, located on top of the vessel. The water was meant to be pumped out and the vessel would rise again. However, the trial failed last night," Faisal told this Saturday.

Faisal further informed that the KPLP had received a call for assistance at around 10 p.m. and had succeeded in finding many of the crew members on Saturday. The six Indonesian crew members were saved, even though it took the KPLP a while to find one of the crew who was trapped in a room. "The company's immediate priority is to render all necessary help and support to the personnel affected and their families," said POSH, while carrying out deeper investigation into the incident. The bodies of the deceased, Ye Myint Myat, 33, from Myanmar; Zhejiang, 28, from China; and Chew Zhi Terence, 34, from Singapore; were taken to BP Batam Hospital.