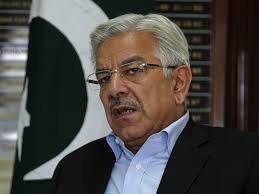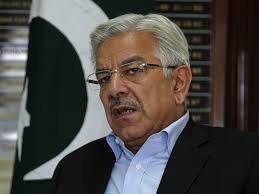 The Defence Minister Khawaja Muhammad Asif this Wednesday gave an interview to Bloomberg and stressed that the current government's relations with the army were "cordial and fine" and he clearly did not see "any possibility of a military intervention". Asif said this in an answer to the question related to intervention of army after the march taking place on 14th of August.

The defence minister is currently in New York and was giving an interview to the New York-based business news service Bloomberg. Asif further added that the government and the military were in complete consensus and agreement on the country's foreign policy. "We still have four years to go," Asif told the news service, adding that Pakistan Muslim League – Nawaz (PML-N) had "a legislative agenda to complete."

The news service interviewed the federal minister after the KSE 100 Index (KSE100), up 12 per cent this year, rose 0.8 pe rcent Tuesday after its biggest retreat in five years a day earlier according to Dawn News. The current government is struggling with Tehreek-i-Insaf's (PTI) 'Azadi March' as well as an 'Inqalabi March' by Pakistan Awami Tehreek, lead by Dr. Tahirul Qadri. Late this Tuesday, the Prime Minister Nawaz Sharif accepted a demand made by Imran Khan in his list of demands and requested that the Supreme Court announce a commission to investigate PTI's allegations about rigging in last years May 2013 general elections. Imran Khan completely refused the suggestion of the Prime Minister and said that no suggestion was acceptable without the resignation of the Prime Minister.