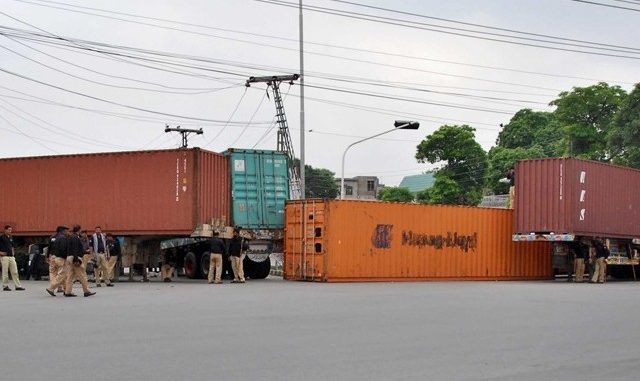 The Lahore High Court this Wednesday orders the Punjab government to remove barriers and containers all over Punjab that are blocking ways and creating difficulties for people in Punjab. The LHC panel comprised of Justice Khalid Mehmood Khan, Justice Shahid Hameed and Justice Anwarul Haq who were hearing a petition against the PTI chief Imran Khan's Azadi march.

The petition was filed by a citizen by the name of Muhammad Kamran, which stated that the protest would propagate anarchy in the country. The LHC panel stressed on the fact that the barriers were creating problems for citizens and further questioned whether the country was in a state of emergency that such security including containers was being used. The bench also directed the Pakistan Tehreek-e-Insaaf advocate, Ahmed Owais to ask the party chairman, Imran Khan, whether the suggestion of a safer venue for the protest was acceptable.

The court gave Owais time until 12pm noon this Wednesday to inquire from Khan and then inform the bench. If the PTI replies in affirmative, the LHC would direct the government to provide a specific and secure venue for the ending of the long march. According to Dawn News, during yesterday's hearing of the case, the court had directed the attorney general to ask Prime Minister Nawaz Sharif regarding his suggestions on the long march while instructing PTI's counsel Owais to ask Imran about his demands so the political crisis could be amicably resolved.