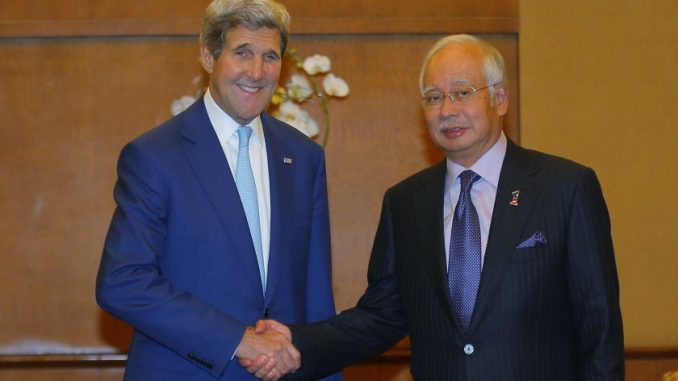 The United States of America this Tuesday congratulated the Prime Minister of Malaysia, Najib Tun Razak on Malaysia being elected to the United Nations Security Council (UNSC). Najib informed that the news was conveyed to him by the United States' Secretary of State John Kerry when the latter paid him a courtesy call after attending Joko Widodo's inauguration as the seventh president of the Republic of Indonesia.

"Senator John Kerry also conveys the readiness by the United States to cooperate with Malaysia at the United Nations (UN)," Najib informed the Malaysian journalists. During the press conference, Bajib also informed that he conveyed the message to Kerry that Malaysia would play an active role in combating the spread of the Virus Ebola disease (EVD). He further added that Malaysia had contributed USD$20 million in the form of rubber gloves which are going to be distributed in five countries which are hit by the deadly disease.

According to Free Malaysia Today, while talking about threats by the Islamic State militant group (IS), Najib said that the United States appreciated Malaysia's stand on the matter and hoped it would help in curbing the spread of the ideology. Najib said he also had the opportunity to meet with Australian Prime Minister Tony Abbott, during which they discussed efforts to trace the missing Malaysia Airlines (MAS) Flight MH370. We agreed that China should be consulted before further action pertaining to the missing aircraft is taken, he added.