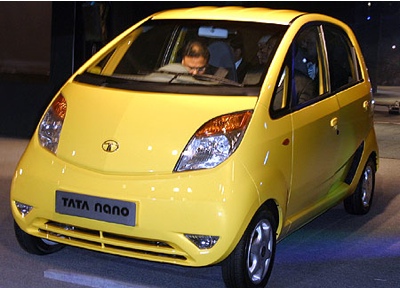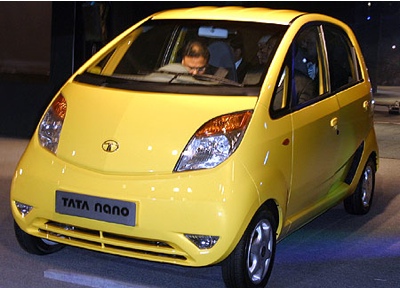 The Tata Nano, the world's cheapest car, has been launched in India.
Costing just 100,000 rupees ($1,979), the Nano will now go on sale across India next month, with deliveries starting in July.
Tata hopes the 10-foot (3-metre) long, five-seater car will be cheap enough to encourage millions of Indians to trade up from their motorcycles.
Tata owner Ratan Tata has described the Nano as a "milestone". Analysts say it will not make a profit for six years.
"We wanted a find a safe way to transport Indian families at an affordable price" said Tata owner Ratan Tata
Tata's managing director Ravi Kant said that from the first orders, a ballot would then select the initial 100,000 people to get their Nano.
"I think we are at the gates of offering a new form of transport to the people of India and later, I hope, other markets elsewhere in the world," Mr Tata added.
"I hope it will provide safe, affordable four-wheel transportation to families who till now have not been able to own a car."
Environmentalists are warning that the Nano will add to India's already clogged up roads, and pollution levels will soar. Tata says the Nano will be the least polluting car in India.
Factory row
The four-door Nano has a 33bhp, 624cc engine at the rear.
The basic model has no airbags, air conditioning, radio, or power steering. However, more luxurious versions will be available.
A slightly bigger European version, the Nano Europa is due to follow in 2011, and is expected to cost nearer to £4,000.
Analysts said that if the car proves an immediate hit in its home market, Tata may struggle to meet demand.
This is because the main Nano factory in the western state of Gujarat, which will be able to build 250,000 cars a year, is not due to open until next year.
In the meantime, Tata will only be able to build about 50,000 Nanos at its existing plants.
The delay happened when Tata had to abandon plans to build the Nano in a new plant in the eastern state of West Bengal due to a row over land acquired from farmers.
This caused the launch of the Nano to be put back by six months.
Global slowdown
Even if Tata can sell 250,000 models a year, it will add only 3% to the firm's revenues, says Vaishali Jajoo, auto analyst at Mumbai's Angel Broking.
I want to be able to take my wife out for a drive in a car – my own car
"That doesn't make a significant difference to the top line," he said.
"And for the bottom line, it will take five to six years to break even."
Yet with seven million motorcycles sold last year in India, Tata is eyeing a huge marketplace for the Nano.
Like almost all global carmakers, Tata has seen sales fall as the global economic downturn has continued.
The firm made a 2.63bn rupees loss for three months between October and December.
In addition, Tata is struggling to refinance the remaining £2bn of its £3bn loan it took out to buy the Jaguar and Land Rover brands from Ford in June of last year.