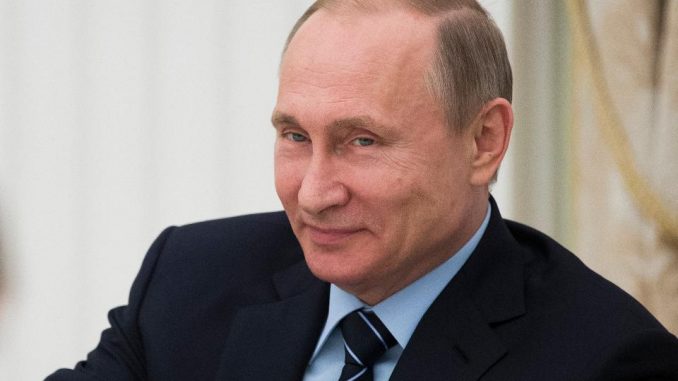 Never ones to be left out of a good fight, two United States senators have recently entered their names in the anti-Russia movement with a proposal to further sanction America's Cold War II foe. Here is the announcement from Senator Bob Menendez' website: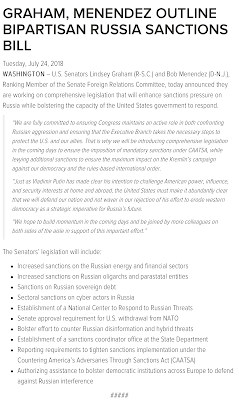 You will notice that Senator Lindsey Graham (R – South Carolina) and Senator Bob Menendez (D – New Jersey) have put their political differences on the back burner and joined forces to beat back the Russian threat that is hanging over the heads of Americans.
As well, here's what Lindsey Graham tweeted on July 24, 2018: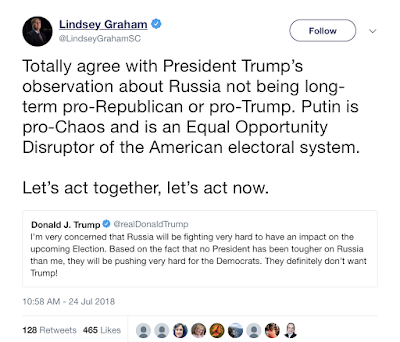 Under the proposed legislation, Washington will establish a National Centre to Respond to Russian Threats. This isn't the first time that such a center has been proposed as you can see here: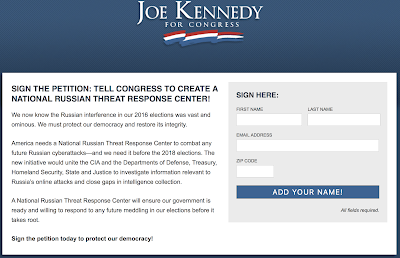 Get Free Gifts! Flash Sale Down To $9.99
U.S. Representative Joseph P. Kennedy III (D – Massachusetts 4th) and grandson of Robert F. Kennedy, sponsored
H.R. 2924
"T
o amend the National Security Act of 1947 to establish the National Russian Threat Response Center within the Office of the Director of National Intelligence, and for other purposes
" on June 15, 2017. Here is a summary of the missions of the center according to the bill:
"The primary missions of the center shall be:
– to serve as the primary U.S. government organization for analyzing and integrating all intelligence pertaining to threats posed by the Russian Federation to the national security, political sovereignty, and economic activity of the United States and its allies;
– to synchronize the efforts of the intelligence community regarding countering efforts by Russia to undermine such security, sovereignty, and activity;
– in coordination with the relevant elements of the Department of State, the Department of Defense, the intelligence community, and other U.S. agencies, to develop policy recommendations for the President to detect, deter, and respond to such threats and to monitor and assess Russian efforts to carry out such threats;
– in coordination with the Global Engagement Center, to examine Russian efforts to use propaganda and information operations relating to such threats; and to identify and close gaps across federal agencies with respect to expertise, readiness, and planning to address such threats.
The Director of the center shall be appointed by the DNI with the concurrence of the State Department. The Director shall: (1) ensure that the relevant federal agencies participate in the center's mission, and (2) have primary responsibility for establishing requirements for collecting intelligence regarding threats posed by Russia.
A Board of the center is established to conduct oversight.
The Director may convene biannual conferences to coordinate international efforts against such threats."
H.R. 2924 was referred to the Committee on Intelligence and the Committee on Appropriations for their consideration where it now sits gathering dust.
As thought that weren't quite enough, in addition, Representative Kennedy also recently cosponsored H.R. 6437, a bill entitled "To combat subversive activities of the Russian Federation ,and for other purposes" for which the text has not yet been received.
Actually, I always thought that the Pentagon served the purpose of responding to Russian threats but I guess, as shown here, with thanks to Franklin Kramer and Lauren Speranza at the highly influential Atlantic Council, that is no longer sufficient:
"Since its takeover of Crimea in 2014, Russia has become increasingly emboldened , undertaking actions that, rather than propping up a failing regime, strike directly against the functioning of Western democracy. Employing a combination of "hybrid" actions – political, diplomatic, informational, cyber-, economic, covert and low-level force – the Kremlin has targeted countries not only on the fringes of its sphere of influence, but in the heart of Europe and even the United States….
Get Free Gifts! Flash Sale Down To $9.99
The strategy should contain six main efforts:
Create an intelligence hub focused on Russia. NATO, the EU or, ideally, both should create an intelligence hub focused on Russia. Assessment of Russian intentions, capabilities and activities would provide the requisite agenda. Information could be gleaned and shared among the participating nations to increase the West's collective ability to recognize and respond.
Enhance and expand contingency planning. This is important, particularly in dealing with the prospect of Russian low-level force, cyberattacks and information warfare….
Use legal tools in response to foreign violations of domestic laws. As an example, the United States recently indicted members of the Russian intelligence service in connection with the hacking of the Democratic National Committee. …More broadly, when one country has been seriously violated by Russian hybrid actions, the transatlantic community should also consider multinational sanctions as appropriate….
Bar any political finance in Europe and the United States by Russia or Russian-supported entities. As a follow-on, existing European national mechanisms that review foreign investments or other financial transactions should enhance their focus on actions by Russian entities that could lead to detrimental impacts on the national security, economy and/or the democratic functioning of a country….
Develop a comprehensive response to Russian election interference. This could include a voluntary code of standards for media-provided information in the context of elections, which could build on the EU's recently adopted "Code of Conduct on Countering Illegal Hate Speech Online" and draw on national laws related to defamation, privacy and objectivity – such as those that already exist in Germany and the United Kingdom….
Establish a "Coordinating Council" to work on these matters. To facilitate this coordination and go beyond the existing limited and still informal efforts between NATO and the EU, the transatlantic community should establish a "Coordinating Council." This new entity could operate on a voluntary, consensus basis – comparably to the Financial Stability Board in the financial arena – to provide coordinated diplomatic, economic, information, security and military actions among NATO, the EU, their nations and the private sector…."
Let's go back to Senators Graham and Menendez and Representative Kennedy and their bipartisan legislative proposal. To me, the saddest thing about the whole anti-Russia narrative is that these legislative desk-jockey warriors won't be anywhere near the front lines should hostilities break out between the United States and Russia. If it were otherwise, you can assure yourselves that Mr. Graham, Mr. Menendez and Mr. Kennedy would be doing whatever they could to prevent poking the Russian bear any further.
Click HERE to read more and view the original source of this article.

Loading ...