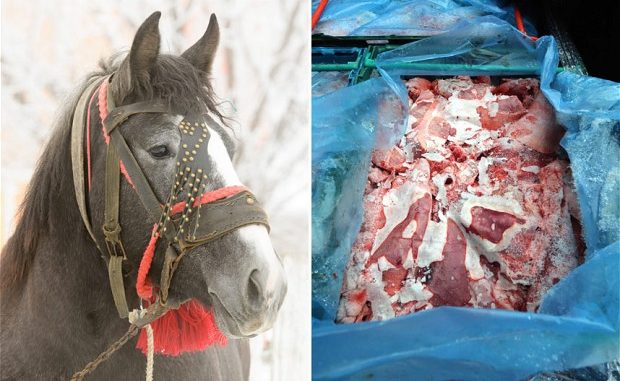 A British minister has told on Thursday that a cancer prone equine drug has been identified in horse carcasses exported from Britain to France destined to enter the human food chain.
The head of Food Standards Agency has pointed to the indication of breaching the rules intended to prevent horsemeat contaminated with the drug "bute" from entering the food chain. The health authorities are still insisting that the risk to human health after eating any such product remains negligible.
Supermarkets across Europe have empties their shelves containing millions of frozen ready meals after tests conducted upon random products revealed that meat labelled as beef contained large quantities of horsemeat. A few of the Findus lasagnes on sale in Britain were found to contain 100 percent horsemeat.
Agriculture minister, David Heath has told the cancer causing drug phenylbutazone test for Findus food products result in negative.
Heath has stated before the parliament that FSA had tested the carcasses of 206 horses slaughtered in Britain for traces of the painkiller, also known as "bute".
Mr. Heath told the lawmakers: "Eight have come back positive. Three may have entered the food chain in France. The remaining five have not gone into the food chain.
"FSA are working with French authorities in an attempt to recall the meat from the food chain."
The Environment Secretary, Owen Paterson has met European counterparts yesterday in order to agree plans for random testing of meat products for bute as well as for horse DNA.
Article viewed on Oye! Times at www.oyetimes.com.