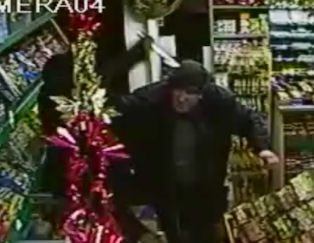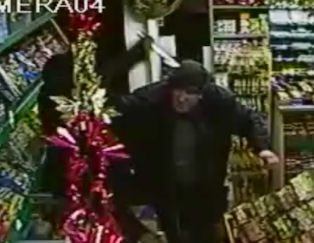 Flying Squad hunting robbers issues CCTV of shopkeepers' fightback
The flying squad today released CCTV footage of a shopkeeper grappling with a violent armed robber as officers hunt men suspected of two crimes which took place just minutes apart.
The images capture the moment the brave 46-year-old and his son, aged 25, tried to fend off the robbers despite them being armed with a handgun and a large knife.
The robbers eventually fled empty-handed from Gonca supermarket at 116 Blackstock Road, Finsbury Park N4, leaving the victims cut and bruised and very lucky to have escaped more serious injury.
The incident happened at 21:45hrs on Tuesday, 21 December 2010.
The two suspects, one armed with the gun and the other with the knife, entered the premises and demanded cash from the till.
The gun was held to the shopkeeper's head which prompted his son to race forward and tackle the robber.
Both suspects and victims were then involved in a struggle, with the knifeman repeatedly trying to stab the shopkeeper and the gunman pistol-whipping his son.
The fight spilled out into the street before the offenders eventually made off along Blackstock Road, turning right into Monsell Road. It is believed they may then have got into a dark-coloured Vauxhall Astra.
The first suspect, armed with the gun, is described as a light-skinned black man, aged about 20, slim and wearing a black balaclava, black bottoms, blue gloves and black trainers.
The second suspect, carrying the knife, was also black and aged about 20, wearing a black hooded top, black and white patterned bandana, black bottoms with two white horizontal stripes and white trainers.
The victims needed treatment at Homerton Hospital for their injuries.
The incident is being linked to an armed robbery which took place just minutes earlier at 21:37hrs at My Shop, 173 Fortess Road, Kentish Town, NW5.
Two suspects armed with a pistol and a large knife entered the venue, threatened staff and demanded cash from the till.
They made off with £300 in cash.
The first suspect is described as a black man, aged 20-25 and wearing a grey hooded top, black trousers and blue gloves. He was carrying the gun.
The second man was also black and aged 20-25. He wore a black woollen hooded top, a grey and white patterned bandana, large goggles and black tracksuit bottoms with two white stripes down the legs. He carried a kitchen-type knife.
The suspects made off into Burghley Road from Dartmouth Park Hill.
Staff were left unhurt but shocked and frightened.
DC Dawn Bolitho, from Finchley Flying Squad, said: "These are clearly men who are fully prepared to use violence and we would urge anyone with information to please contact us as soon as possible.
"The second suspect wore distinctive clothing and if you recognise it please come forward."