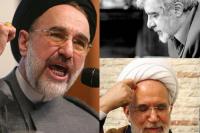 This article was last updated on April 16, 2022
Canada:

Oye! Times readers Get FREE $30 to spend on Amazon, Walmart…
USA:

Oye! Times readers Get FREE $30 to spend on Amazon, Walmart…

Former Iranian president Mohammad Khatami has once more expressed his dismay over the on-going illegal house arrest of Green Movement leaders Mir Hossein Mousavi and Mahdi Karroubi.
According to pro-opposition RASA television, in a meeting with Karroubi's son Ali Karroubi on Tuesday, Khatami recounted Karroubi's outstanding bravery before the revolution and praised his role during the reform years (1997-2005) as "the brave son of the revolution."
During the meeting, the veteran reformer expressed regret over the continued house arrest Karroubi and his wife Fatemeh Karroubi and hoped that the two would be released along with fellow opposition couple Mir Hossein Mousavi and Zahra Rahnavard "as soon as possible so as to prevent further discouragement amongst the admirers of the revolution."
Khatami was also briefed on the latest developments regarding the arrest and court proceedings of Ali Karroubi and expressed hope that his case would be treated in a quick and just manner.
Ali Karroubi was released on a bail worth more than $97,000, 25 days after he was arrested on 22 February. This was Ali Karroubi's second detention following the 2009 presidential election. On the 31st anniversary of the Islamic Revolution in February 2010, he was arrested while trying to stop plain-clothed state-agents from attacking his father. Following his release at the time, in an open letter written to the leader Ali Khamenei, his mother Fatemeh Karroubi revealed the details of her son's treatment while in detention, including torture and threats of rape.
The leaders of the opposition Green Movement Mahdi Karroubi and Mir Hossein Mousavi were placed under illegal house arrest on 14 February, when a fresh wave of opposition protests began in support of the recent uprisings in Tunisia and Egypt. In the past 67 days, various human rights organisations and political figures from across the globe have expressed their concerns about the state of well being of the former Prime Minister and former parliament speaker and have called for their immediate release.
Following the death of Mousavi's father on 30 March, the opposition leader and his wife Zahra Rahnavard were briefly allowed to say their final farewell to their father under the watchful eyes of a large number of security forces who accompanied them to the house of the late Mir Esmail Mousavi.
In a recent phone interview with the pro-reform Rooz Oneline website, Mir Hossein Habibi Mousavi [1], Mousavi's brother-in-law, said that the Mousavi and his wife still in "excellent spirits." "Since they were brought [out of house arrest] to [bid farewell to] their father's [dead] body, I have not seen them, but yesterday they called us and both Mr Mousavi and Ms Rahnavard spoke with us."
Mr Habibi Mousavi told Rooz that the couple could only discuss family matters and nothing further. "They are both in excellent spirits and as far as we know, they are doing well," he added. "Their situation is like before, and as far as I know, they're in their own house."
Earlier and in another interview with Rooz, Mousavi's sister, Khadijeh Mousavi Khameneh, had said her brother and sister-in-law were in "good" morale and still "resilient." "Mohandes [Mousavi] is walking on the right path and relies on the Lord. When a man knows that he is on the right path, enduring the pains and hardships becomes easy, and God also assists."
Note:
[1] Mir Hossein Habibi Mousavi is the father of Seyed Ali Moussavi Habibi, nephew of Mir Hossein Moussavi who was assassinated during anti-government protests on 27 December 2009.
Click HERE to read more
Article viewed at: Oye! Times at www.oyetimes.com
You can publish this article on your website as long as you provide a link back to this page.