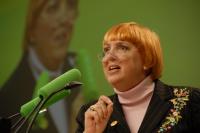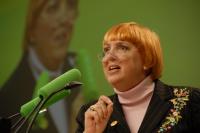 The continued house-arrest of Mir Hossein Mousavi, Mahdi Karroubi and Zahra Rahnavard constitutes a form of "abduction" carried out by the Iranian state, says Claudia Roth, Chairwoman of the German Green Party.
Mousavi, his wife Rahnvard, and Karroubi were placed under house arrest the opposition duo called for rallies in support of the Tunisian and Egyptian uprisings in mid-February 2011.
"The three leaders of the Iranian democracy and protest movement and hundreds of other political dissidents are detained absolute unlawfully and without any legal basis," Roth said in a statement last week. She argued that the continued house arrest of Iran's opposition leaders was "contrary not only to all international and human rights standards, but also to Iran's own law."
Roth maintained that "the world has not forgotten these people. On the contrary, the sympathy and support for them is growing every day." She also called on the German government to focus on Iran's human rights violations in its dealings with the country.
Members of the Nobel Women's Initiative, who are also Nobel laureates, recently called for the "unconditional release" of the three. They urged "all freedom-loving people and human rights organisations throughout the world not to remain indifferent to the fate of the prisoners of conscience in Iran, in particular the aforementioned individuals, and to employ every means at their disposal to secure their release."
Click HERE to read more.