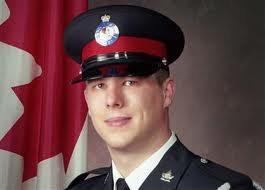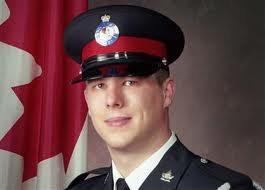 Constable Garrett Styles will be honoured at 1pm on Tuesday, July 5, 2011 with a funeral to take place at the Ray Twinney Recreational Complex in the Town of Newmarket. A police procession will start at Upper Canada Mall at 10:30am and travel south on Yonge Street. Anyone wishing to pay their respects is invited to line up on Yonge Street between Kingston Road and Eagle Street.
The ceremony will be broadcast throughout the province of Ontario on various Rogers TV cable channels.
A trust fund for Constable Styles' family has been set up and donations can be sent to:
Police Credit Union
18025 Yonge Street
Newmarket, L3Y 8C9
The account number is 2000014 and the transit number is 63612. Cheques should be made payable to In Trust for Melissa Styles and can be mailed to the address above or provided in person at any Police Credit Union branch.
What happened?
On June 28, Officer Styles, working alone, stopped a van. He discovered several teenagers inside and in fact, the van was being driven by a 15-year old boy. Styles reached in to grab the keys but the van sped off dragging the constable for 300 metres. The driver lost control of the vehicle and it flipped over pinning the officer underneath it. He later died in a Toronto Hospital.
It is reported that there were a total of four young people in the van. The 15-year-old driver can't be identified however he is supposedly paralyzed below the waist and is now facing a charge of first-degree murder.
The sensationalist part of the story is that several media outlets published an audio recording of Styles when he phoned his dispatcher while pinned under the van. This has been categorized as being somewhat tasteless and certainly distressing for both the community and his widow. York Regional Police are said to have now lodged a complaint with the Ontario Press Council and the Canadian Broadcasting Standards Council over this incident. – Should that recording have been released to the public?
Garret Styles would have 33 this past Sunday. He leaves behind his wife Melissa, their daughter Meredith and baby son Nolan. Melissa is currently on maternity leave.
Media Release
York Regional Police: Media Release – July 4/2011
York Regional Police is reminding the public a full police funeral will be taking place on Tuesday, July 5, 2011 for Constable Garrett Styles, tragically killed in the line of duty on June 28, 2011.
The funeral will take place at the Ray Twinney Recreational Complex, located at 100 Eagle Street West, in the Town of Newmarket at 1 p.m.
The police procession will step off from the Upper Canada Mall at 10:30 a.m. sharp and will travel south on Yonge Street, from Davis Drive to Eagle Street. Thousands of officers from various services across North America are anticipated to be in attendance as well as hundreds of members of York Regional Police, both sworn and civilian.
Yonge Street will be closed between Kingston Road and Eagle Street beginning at 10 a.m. and will be until approximately 2 p.m. Davis Drive between Yonge Street and George Street will also be closed during this time period. Motorists will be assisted by uniform officers at intersections affected by these closures to direct them to alternate routes. Eagle Street West from Davis Drive to Yonge Street will be also be closed.
Between 10:30 a.m. and 2 p.m. Yonge Street will be also be closed south of Eagle Street to Mulock Drive and Davis Drive will be closed between Bathurst Street and Yonge Street. Only local traffic will be permitted though.
Police are urging all motorists to avoid the entire area between 10 a.m. and 2 p.m.
Click HERE to read more from William Belle
Article viewed at: Oye! Times at www.oyetimes.com