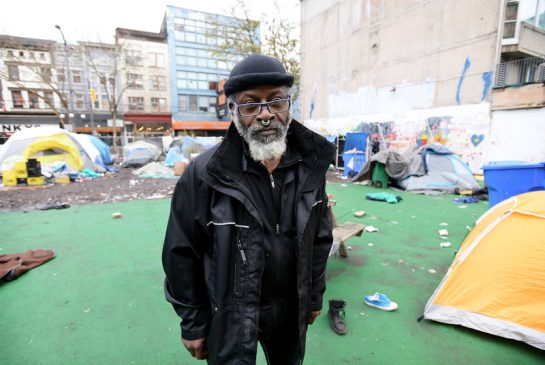 In a ruling announced on Thursday, Nov. 17, B.C. Supreme Court granted an injunction to the City of Vancouver and the latter has ordered the residents of the tent city at 58 W. Hastings to vacate the area by 6:00 pm on Thursday, Nov. 24. The tent city was set up recently at the end of June.
The advocates for residents of the tent city had asked the court that the city should be focusing on giving the residents access to running water, toilets, showers and regular garbage pickup rather than fighting to evict them from the area and shutting down the encampment. A lawyer with Pivot Legal Society, i.e.an advocacy group that unsuccessfully challenged the injunction in court, DJ Larkin explained that "tent cities or more structured encampments are not an answer to homelessness, but they are definitely a tool and I think it's one that Vancouver needs right now."
In its disclosed long-term plan for the site, the city hopes to build a new building that will be 100 per cent social housing. However, the tent city residents are not impressed by the city's offer of space in shelters and at least 14 people are still living at the site. One of the residents, Taz, mentioned that "I'm sad because they said they had housing for me, and no one has housing for me." Whereas another resident, Dan, alleged that "they'll stick us in an SRO (single room occupancy hotel), well, every one of them has cockroaches," adding that "there's a few good ones but they're all full. Living in the Regent" — a notorious SRO — "ain't much better than living in this tent."


Loading ...