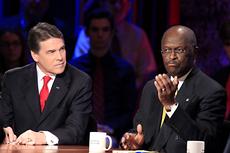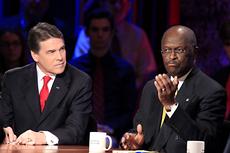 There's a new poll out today that shows Herman Cain and Rick Perry essentially tied for the GOP presidential nomination, but the results are in Texas where Perry has been governor for 10 years.
Cain edges Perry 27% to 26% among Texas voters who say they're Republicans in the new survey by the University of Texas and the Texas Tribune. Texas Rep. Ron Paul is third with 12%. The Cain and Perry numbers are within the poll's margin of error.
"For Gov. Perry, the news is mixed," Daron Shaw, co-director of the poll, tells the Texas Tribune.
While Perry's numbers are better than his showing in May, when he was not a candidate, Shaw notes "he is not dominating here the way one might have expected."
Cain has been surging in national and state polls in recent weeks as Perry, who upended the race when he joined the field in August, has slid.
In one tell-tale sign: Cain has a 13-percentage point lead over Perry among the most conservative voters, the Texas poll shows. Cain also does better than Perry in rural areas and in the suburbs.
The poll, however, underscores the strong GOP tide in Texas. In hypothetical matchups, President Obama would lose against Perry, Cain, Ron Paul and Mitt Romney. Perry does best against Obama, getting 45% of the vote compared with 37% for the current White House occupant.
Article Viewed on Oye! Times @ www.oyetimes.com