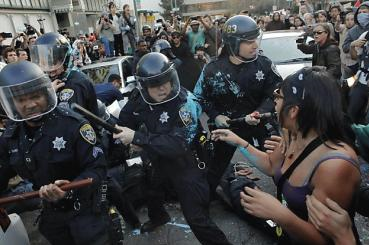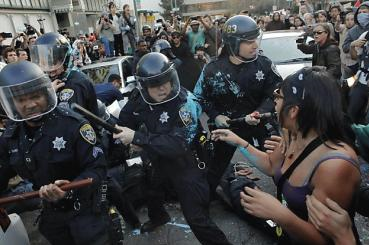 In an early morning raid, police peacefully evicted the Occupy Oakland camp that has been pitched outside of City Hall for more than a month.
Lines of police in riot gear closed in around 5 a.m. on the hundreds of protesters who had gathered at Frank H. Ogawa plaza in anticipation of the eviction.
By the time Mayor Jean Quan toured through two hours later, there was nothing to see but collapsed tents and abandoned signs.
Quan's chief legal adviser Dan Siegel resigned the night before over the coming police raid.
Many occupiers had packed up their tents before the eviction, disheartened but vowing to return. They plan to rally at 4 p.m. in front of the main branch of the Oakland public library.
"It feels pretty sad because we built a community here, and now they can just come and destroy it," said Lara Bitar, 28, as she helped collapse the camp's "intifada tents" early Monday morning. "At the same time, this movement is about more than just the space here."
Protesters chanted and played drums in the intersection of Broadway and 18th Street as police staged for the action.
Oakland's call for mutual aid cost between $300,000 and $500,000, according to Interim Chief Howard Jordan, and drew forces from Hayward, Fremont, Richmond, San Leandro, San Mateo, San Francisco, Alameda County and BART.
An email from an unknown source circulated among campers late Sunday warning, "Expect to see overwhelming use of force by police directed to occupiers who refuse to comply."
Article Viewed on Oye! Times @ www.oyetimes.com