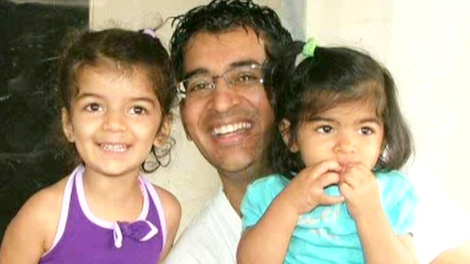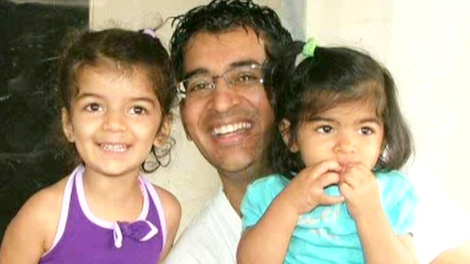 Relatives and close friends of 38-year-old Devinder Kumar gathered for a vigil Wednesday night. Kumar was found dead at the side of a Caledon road on Nov 10. Two Brampton men, Marlon Nurse, 29, and Darryl Plummer, 25, have been charged for killing Kumar.
The vigil was held at the crime scene. Kumar is survived by his wife and two daughters, and is being remembered as a true family man.
Kumar's brother-in-law, Sam Kataria said: "The way he will be remembered by everybody I think is just a fun-live, easygoing, caring family man. That's really at the end of the day what he was. He only cared about two things: his family and his friends."
Kumar's close friends are also struggling to come to grips with the incident that led to his death.
"Tragic! Tragic way to go! Didn't deserve it, that's for sure… Nobody does, but Devinder, you'd never think this would happen to a guy like him," said his friend and colleague Emma.
Over 700 people came out of their homes to pay condolences to Kumar's family. As they all lit candles at the crime scene, they condemned actions that have had devastating effects on the society.
A TD trust fund has been set up in Kumar's name to support his wife and daughters.
Donations to the Devinder Kumar trust fund can be made at any TD Bank branch.
Transit Number: 08142
Account Number: 5259280

Article viewed on Oye! Times @ www.oyetimes.com