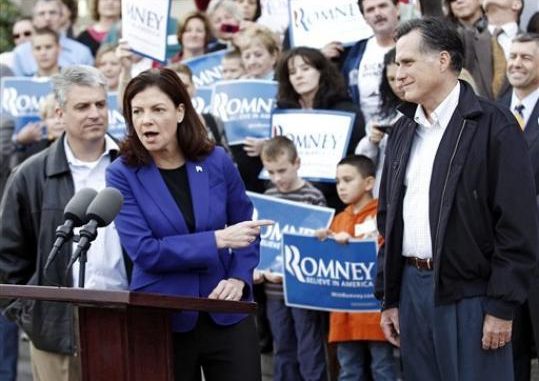 Mitt Romney's Republican presidential campaign collected some high-profile endorsements over the weekend, contributing to a growing sense of inevitability surrounding the former Massachusetts governor's White House bid.
"There's one person in this field who is prepared to lead the United States of America and that is Mitt Romney," Ayotte told cheering supporters gathered on the city hall steps. "And most importantly, there is one person who I know will ensure that Barack Obama is a one-term president and that is Mitt Romney."
And on Monday, U.S. Rep. Charlie Bass was joining Romney's campaign. Campaign aides said Bass, who served six terms in Congress before losing his re-election bid in 2006 only to win back his seat in 2010, would join Romney Monday morning on a tour of a Nashua defense contractor. Romney planned to announce Bass as a co-chairman in New Hampshire and a member of his national advisers.
"Voters in New Hampshire and across our country are looking for a candidate that understands what our economy needs to recover and grow, that has the experience of creating jobs and has the leadership qualities needed to bring the citizens of our nation back together in these challenging times," Bass said in a statement.
"I firmly believe that Mitt Romney is the candidate that will renew our country's faith in the American dream."
Article viewed on Oye! Times @ www.oyetimes.com