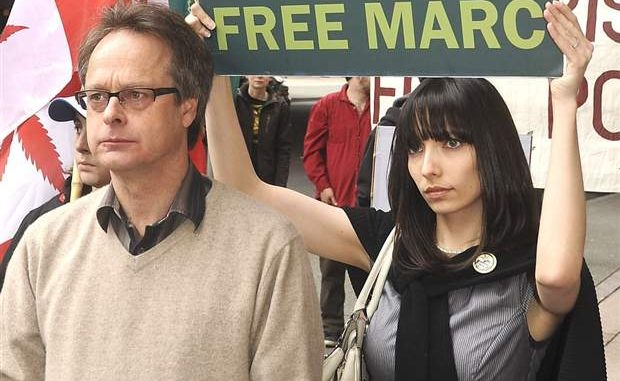 Toronto police have arrested the owners of marijuana dispensary chain, Marc and Jodie Emery, as their Vancouver counterpart raid the Hastings Street headquarters of Cannabis Culture cafe along with other pot shops across the country.
The couple's lawyer, Kirk Tousaw, confirmed that the self-proclaimed 'Prince of Pot' and his wife were arrested at Toronto's Pearson airport on Wednesday and are currently in custody in Toronto. He posted on Facebook that his clients will be presented for a bail hearing at Old City Hall on Thursday morning. According to Tousaw, "it appears they were arrested at the airport and not as part of a raid." Meanwhile, Vancouver police began executing a raid at Marc Emery's Cannabis Culture at 307 West Hastings Street at around 8 a.m. as other raids were also being conducted at Cannabis Culture shops in Ottawa and Toronto. Social media reports claim that Cannabis Culture shops Toronto and Hamilton are also being visited by police this morning.
One of the most well-known marijuana advocates in the country, Marc Emery posted on Facebook on Wednesday around 7 p.m. that the couple were headed to cannabis expo Spannabis in Barcelona. Meanwhile, Tousaw mentioned on his Facebook page that "Toronto police have enlisted Vancouver police to execute warrants at CCHQ in Vancouver. Also hearing of raids at other Cannabis Culture franchise in ON. Be safe out there folks."


Loading ...